Indigo is the Color of the Universe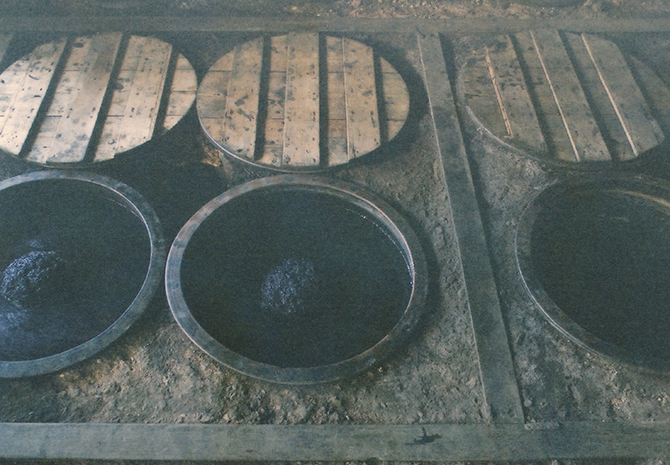 The North Atelier's indigo dye vat 
Our ancestors sought to borrow the color blue from the world of plants.
They wrapped themselves in blue as the Earth itself is wrapped in blue.
Indigo is the fabric of the universe.
Indigo dyeing has a long history. In Egypt, indigo-dyed linens were produced as early as 2000 BC. The process is believed to have been brought to Japan by an envoy to China in the time the Tang Dynasty. Japanese indigo plants include the Tade indigo (Polygonaceae), Ryukyu indigo (Acanthaceous), and the Ai-kazura (Coleoptera). Elsewhere there is the Indian indigo (Fabaceae), the wisteria indigo (Fabaceae) in West Africa, and the ward (Brassicaceae) in Europe. Indigo protects cloth, paper and skin. Its bulbs and leaves can be used as medicine. The cultivation and practice of indigo dyeing connects us to the mysteries of nature and to the wisdom and work of all the generations that have come before us. From the sacred indigo leaf the very colors of the heavens come pouring out.
We are pleased to present the exhibition "Indigo is the Color of the Universe" at the Center for COSMIC WONDER and gallery Hakuden. We will announce indigo dyeing events with Shindo Makito (North Atelier / The Little Indigo Museum), Takayuki Ishii (Awono-you), Hitoshi Kitamura / Miyuki Onishi (Konya Jin), and Keiichi Yoshikawa (Kyoto Hozu Indigo Atelier). We will also present indigo-dyed works by Yukinori Maeda and Sumiko Ishii of Kogei Punks Sha.
−
Makito Shindo (North Atelier / THE LITTLE INDIGO MUSEUM)
Since 2015, he has occupied the North Atelier of founding indigo dye artist Hiroyuki Shindo, where he works with liquid-ash fermentation, a method developed in ancient times. He aspires to make pieces that distill the beauty and mysterious charm of indigo for people to enjoy today. Hiroyuki Shindo established the Matsugasaki Atelier in Kyoto in April 1972. He founded the North Atelier, in Miyama, in April 1981, where he later opened the Little Indigo Museum in April 2005.
Takayuki Ishii (Awono-you)
Indigo-dyeing began with an interest in sustainable design. Learned dying from Noriyuki Murata, liquid-ash fermentation from Fumiko Sato, Nagaita-chougata (stencil dyeing) from Matsubara Yoshichi, Ise-style carving (dyed-pattern paper) from Akio Takai, and crafts from Brian Whitehead. He built an atelier with his wife in the mountainous area of Kanagawa prefecture. Indigo cultivation, making *sukumo, liquid-ash fermentation and dyeing techniques such as stencil dyeing, squeezing, drawing, and wax dyeing. No chemicals are used throughout the process of indigo cultivation and dyeing.
Hitoshi Kitamura and Miyuki Onishi (Konya Jin)
Soil composition, cultivation of indigo grass, making *sukumo, and indigo dyeing. It is a wonder how the indigo color is born out of the flow of time and natural processes. It is the joy of witnessing this wondrous transformation that is at the root of our activities. *Sukumo made in Tokushima prefecture. Liquid-ash fermentation and traditional Japanese indigo dyeing learned in Tochigi prefecture.
Keiichi Yoshikawa (Kyoto Hozu Indigo Atelier)
He has been involved in indigo dyeing for more than 30 years. He revived the phantom Kyoto indigo and then moved to Kameoka city. He rented a tenement house on the banks of the Hozu River to establish the "Hozu Indigo Research Institute" and restore Kyoto Indigo. Indigo cultivation, making *sukumo, liquid-ash fermentation and dyeing. He also dyes Ryukyu indigo by powdered indigo (Doroai).
*Sukumo indigo is a slowly fermented dye.
−
Center for COSMIC WONDER
Exhibition period:
July 4 − July 12, 2020
Open 12pm – 6pm
Temporary Closed: July 3
5-18-10 Minami-aoyama, Minato-ku, Tokyo
T. +81 (0)3 5774 6866
Exhibition period:
July 18 − July 26, 2020
Open 11am − 6pm
7 Moriyamada, Kyotamba-cho, Funaigun, Kyoto
T. +81 (0)771 82 1782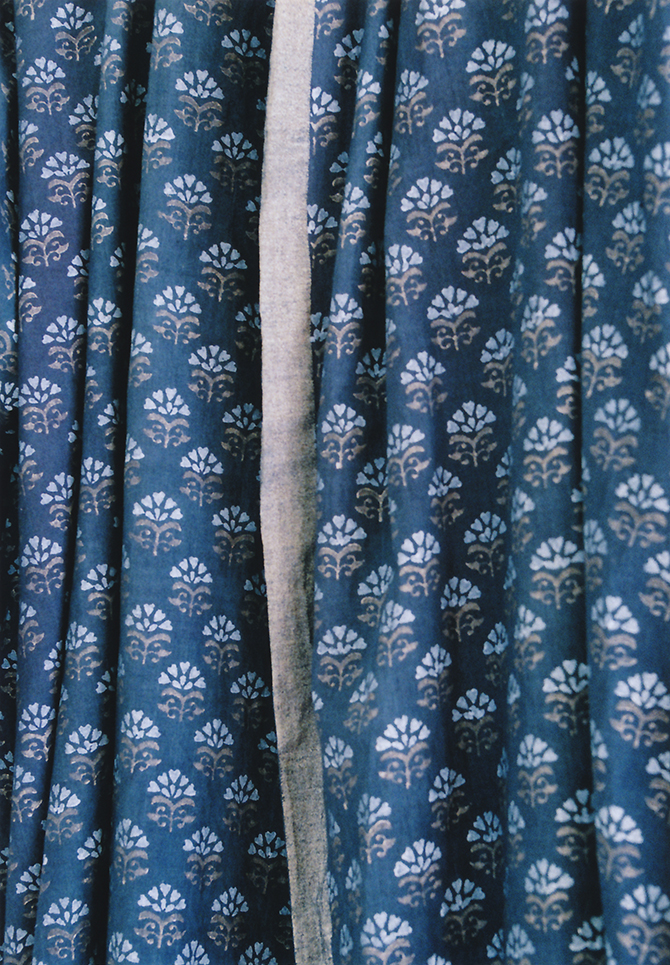 Ryukyu indigo dyed blook printing khadi by Kyoto Hozu Indigo Atelier