Miyakono Yasuda
ancient sound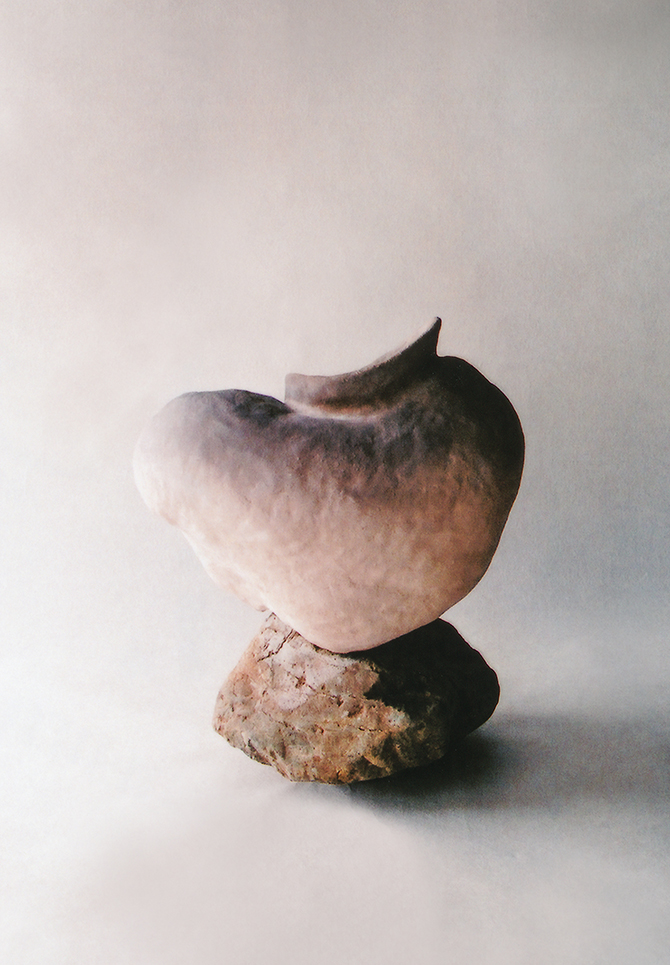 The natural world plays a natural music of overtones that settles our breathing and steadies our nerves.
On this spherical, spinning Earth, silent vibrations constantly stir our blood and bones and revitalize our cells.
I thought that something similar was happening in earthenware pots.
Something was being transmitted by earthenware for years and years.
I tried to measure their frequencies.
Large open-mouthed pots have a low frequency, while narrow-mouthed vases have a higher frequency due to their faster resonance. 
It depends as well on the thickness, form, and quality of the clay.
The same is true for a tuning fork. 
A low frequency produces a dull reverberation and a high frequency rings with a clear sound.
I think it's the difference between use value and taste.
Leave water in an earthenware pot overnight and its resonance will send ripples through the water.
If I play a small harp above an earthenware pot, it becomes an amplifier.
If I bury a clay pot in the soil it will absorb the sound from above the ground, which is why it has found a modern use as soundproofing. 
I choose stone as a conduit to receive the frequencies emanating from the soil.
When I shape an earthenware pot on a stone, I can hear the same sound that the ancients heard.
I think this is a good way to feel their rich and sublime spirituality.
Miyakono Yasuda
−
We are pleased to present the fiest solo exhibition; Miyakono Yasuda "ancient sound".
Miyakono Yasuda mixed the cray and soil around the Jomon ruins with plants from unique perspective.
The soil is formed by hand-twisting, and the work is fired by noyaki process.
Yasuda is trying to make the sound of ancient people appear through her works.
It feels as an act of connecting sprit and thought in harmony with nature (God) to the present.
Exhibition period:
October 13 – October 20, 2019
*The artist will be attending on October 13
*Closed: October 11 – 12
*Temporary changed open time / 1pm  – 7pm , October 13.
Opening Ceremony: 
Saturday, October 13 / 4pm
Miyakono Yasuda
Born in 1972.
Started  activities based on plants, minerals, and soil from 2012.
Create works by connecting ancient pottery formation, studies fired by Noyaki (open firing) with unique senses.
Yasuda has been involved in the activities and art production of Cosmic Wonder since its establishment.