COSMIC WONDER RESTAURANT
Please come and visit us for lunch.
Let's exchange gifts.
Flowers, stones, letters, cookies…
Whatever you choose to bring, we'll have some lunch for you.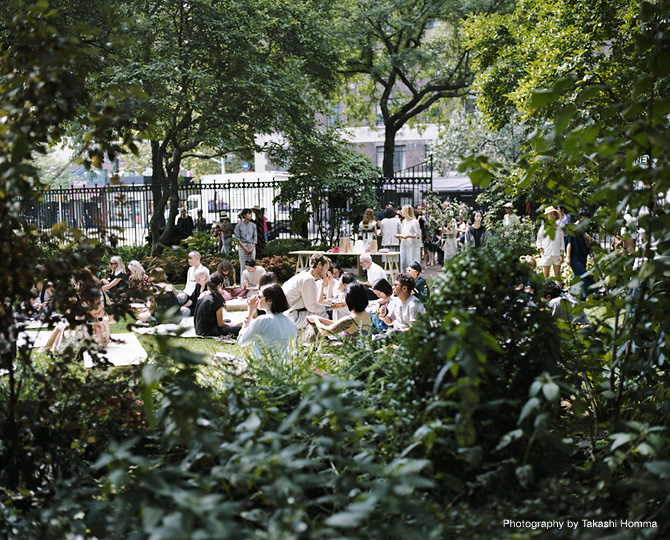 People visit the restaurant with gifts to exchange for lunch and a performance.
Upon arrival, visitors are given exchange tickets in the form of oil paintings, mirrors, and vases, and are then guided to their seats. Each ticket is a signal for a particular performance to begin, ranging from music, dance, singing and poetry. In the tranquil environment of the community garden, these serene performances emerge and recede and overlap one another. All of the performances are inspired by the idea of a gift economy.
The restaurant serves plates of wild greens and vegetables grown with permaculture methods, as well as vibrational mountain water from "Kifune", Kyoto and "Okatorano" flower essence water.
This garden restaurant is a means of guiding the visitor's mind into a meditative space.
We might be able to catch the moment where a new and free-floating expressivity emerges through the multidimensional exchanges and movements.
ART DIRECTION : COSMIC WONDER
LINE OF CLOTHES : COSMIC WONDER Light Source | The Solar Garden COSMIC WONDER
ART FOOD : Aki Goto, Yuki Kato
PERFORMERS : Adam Kell, Claire Linn, Dora Johannsdottir, Kentaro Takashina,
Lynne Brown, Masha Pruss, Nezam Ardalan, Stephen Sprott,
Thuridur Ros Sigurthorsdottir, Evan Guyton, Gisela Fulla,
Munenori Hinoki, Kigi Hinoki, Yukinori Maeda
VOCAL IMPROVISERS : Kyoko Kitamura, Anne Rhodes
VIOLIN : Mari Yamamoto, Hayne Kim
VIOLA : Sarah Hainess, Midori Witkoski
CELLO : Kim Vogels
CONTRABASS : Carl Testa, Pablo Menares, Patrick Swoboda
FLUTE | PICCOLO : Allison Linker
MUSIC DIRECTION : Jue and Anoa (Yukinori Maeda, Mayumi Tanaka)
DANCE : Dani Brown, Connor Voss
CHOREOGRAPHY : Dani Brown
VIDEO RECORDING : Les Contes (Fumitaka Kato, Ai Nakagawa)
HAIR MAKE : Mari Kikuchi, Ayami Yamada, Kotarou Suzuki, Akio Kimura, Megumi Kashimura, Minako Kiuchi
PRODUCTION : COSMIC WONDER, Yasuyo Hibino (fish co), Stephen Sprott
© COSMIC WONDER, 2013