COSMIC WONDER Free Press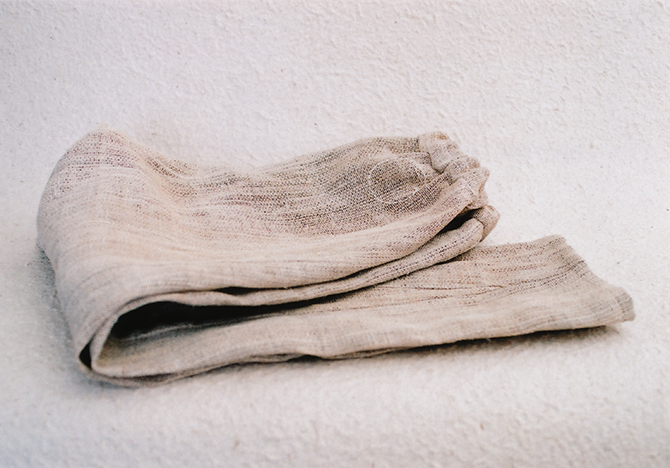 Tattsuke for Toru Inomoto made with Wisteria woven by Tame Mitsuno
When I opened the front door feeling its damp moisture on my hand, I momentarily found myself dizzy and blinded by the darkness of the earthen floor in contrast to the brightness of the outside.
"Who's visiting on this snowy day?"
"It's Inomoto from the museum."
"Ah, it's the young fellow from the museum again."
Lit by the light of the hearth, the curled up figure that had just spoken appeared from behind the shoji screen stained in soot.
Sat at the edge of the hearth with her legs stretched out, she hooks the fibers around the thumbs of her feet, handling and twisting them between her thumb and index finger with a certain air of ease without making any knots, gradually transferring them into the basket placed beside her. This is what is referred to as umu (spinning).
As I continue to watch, her hands moved swiftly, almost as if she had eyes on her fingertips. She gave the impression of a silkworm that spews thread to make its cocoon.
She had continued to firmly dismiss my plea, stating, "I've never spoken about wisteria weaving in front of others, nor have I tried teaching it to anyone. No matter how many times you ask me, what I can't do, I just can't do."
It was then that her partner Shintaro who sat wrapped in a futon said, "I see he's come many times in the snow to speak to me. Why don't you get involved for once?" Thus with these words, a wisteria weaving workshop had begun under the guidance and by following the example of Tame Mitsuno and Tsuya Ogawa (1985).
The women who engaged in wisteria weaving were of old age, and due to fear of being unable to pass on their techniques to future generations, it was decided that a documentary video would be filmed (1987).
At the time there had been a request from the textile wholesaler "Shuuiki" in Kyoto to produce a fabric with a width of 45cm that could be used to make floor cushions for a tearoom. In filming the video we asked the women to return to the traditional method and weave the fabric at a width of 35cm.
Tame-san who was the central figure had suggested, "Since I'd feel more in spirits, how about weaving two rolls of cloth rather than one?" She further proposed to me that I purchase these two rolls (320,000 yen worth in total: 1 roll = 150,000 yen x 2 rolls + what she had began weaving and had just finished weaving). Of course, this was a natural request. Having only just started working at the museum at the time, I had considered purchasing the cloth on part of the museum. Nevertheless I was unable to incorporate the fee within the museum's budget, and telling myself that ultimately I would be able to preserve the actual cloth along with the documented video, I took the leap and decided to make the purchase.
And now, I have asked Yukinori Maeda to tailor this cloth into a 'tattsuke.' Once the snow has melted I'd like to wear my tattsukeand go out to work in the fields.
I don't doubt that Tame-san would be laughing in the afterlife, telling me, "Well you're a bit of a peculiar one aren't you?"
Toru Inomoto, Gouryoku-no-kai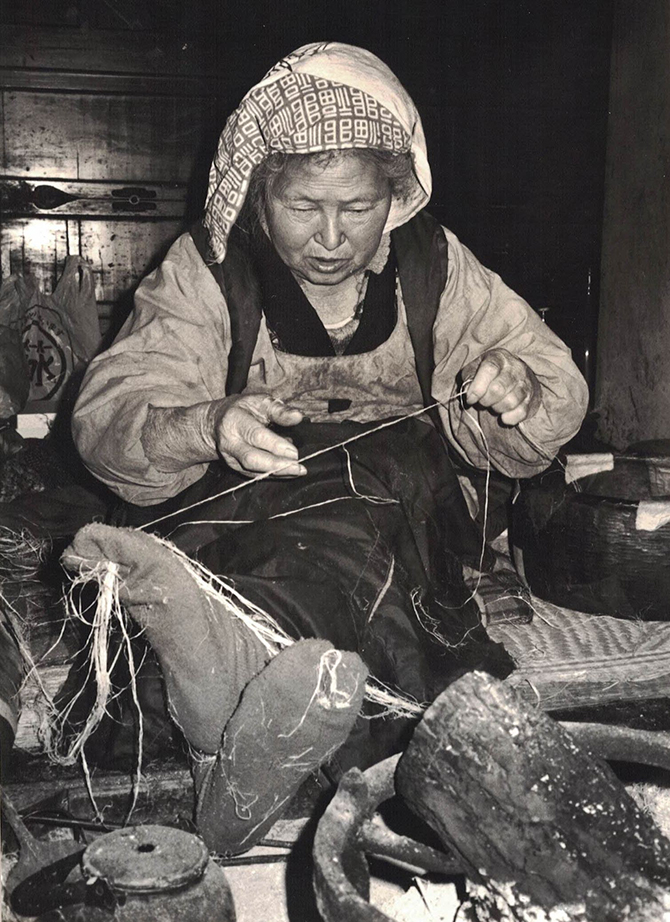 Tame san is Umu (spinning) of Wisteria, sat at the edge of the hearth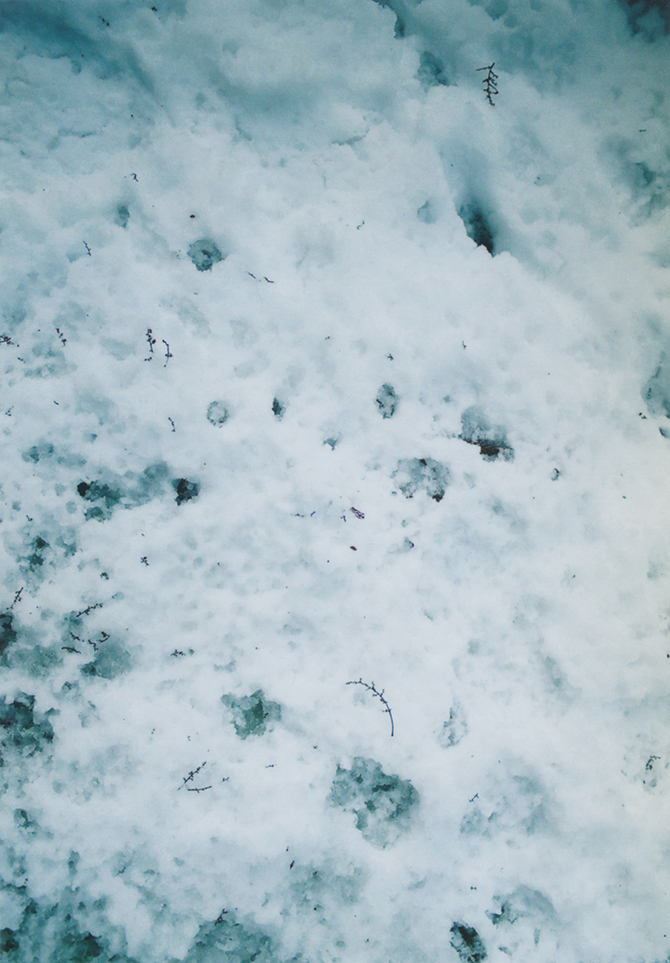 From the end of January to the beginning of the Lunar New Year, the village becomes covered in snow, giving rise to a beautiful white landscape.
This white world, as if trying to draw out something from within us, leads people engross themselves in tasks within the home.
Such environment is near that of death, and through strengthening the light of life amidst the silent calm, one continuously finds oneself in a daze-like sensation of reflecting and absorbing this luminance like sound.
Last year, the Ryugu where I live at the foothills of the mountains, had itself become reminiscent a snow hut due to the gusts of snow that had blown into the valley. I recall small wild animals going to and fro in the attic as the mountains and the thatched roof of the old house came to merge as one through the snowfall. This time around one must take effort so that the roof and mountains do not come together as one again.
I realize it has now been one year since I moved here. I have no sense of the time spent here being long or short, nor do I have an awareness of living in a place that is unknown to me. All I simply feel is the sense of me living here, in this very place, and for that I am grateful.
Venturing into the forests of Asei within the neighboring mountainous valleys on a deep snowy day like this, what would emerge before one's eyes is a profoundly beautiful, white and unexplored land that is connected to the other world. One hopes to enter into such a forest one day.
My words may sound like those of a vexing literate, yet all I wish for is to purely witness this beautiful scene in nature.
When I come across the footsteps of some wild animal in the snow-covered mountains, I engage in playfully tracing their path. Depicted in that fleeting moment, are traces of people and animals coming together upon the snow.
January 22, 2018
With sincere gratitude for all the encounters and paths crossed in this village
Yukinori Maeda
from "Chii Ryugu Journal"
Photography by Ai Nakagawa
Translation by Kei Benger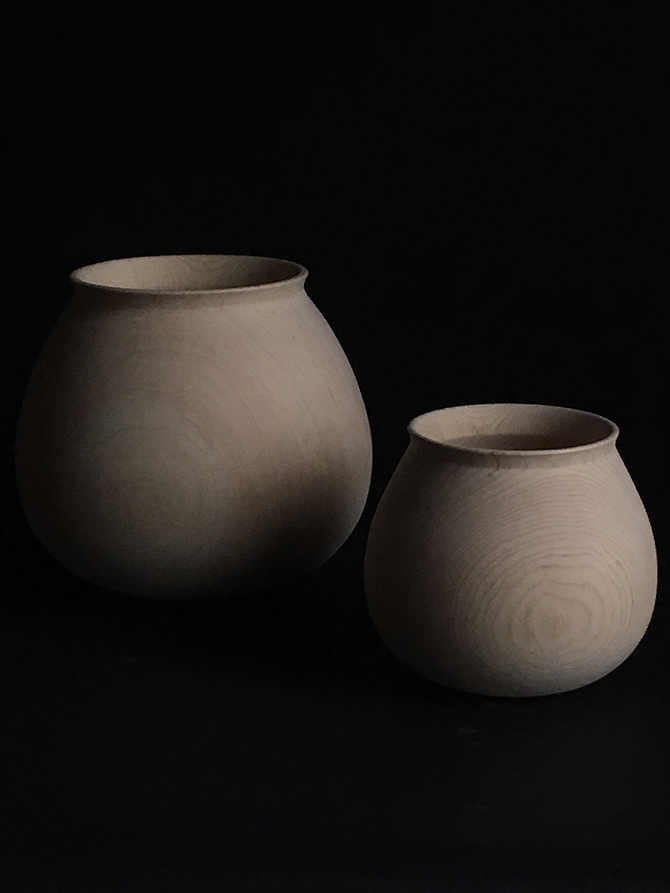 Masaru Kawai
Houmokuki 2017
Japanese cypress
paper and crystal 2003
An eternal thing and a not eternal thing -for example, paper and crystal were placed
Well captain, what knows eternity?
I'll take it on a ship.
All collection was made by paper, and attached flat cut crystal one by one. It doesn't mean crystal is eternity and paper is not eternity, we want to make people feel everything is made, broken and gone that never remains in a moment.*
N.H: "Paper and Crystal" is a collection of clothing made of paper. Cosmic Wonder has also recently presented clothing called kamikoromo made of washi paper, which has been worn as garments for the "water ceremony" and "Omizue" (a ceremony for drinking spring water) I would like to ask you about the "Paper and Crystal" collection that you had presented back then. At the opening of the 'You reach out –right now- for something: Questioning the Concept of Fashion' exhibition, Susan Cianciolo had worn paper clothing that had been made by Cosmic Wonder at the time. I was deeply moved by this. I thought to myself, "so it really is possible to wear such clothes within the context of ordinary life."
Y.M: (laughs) When we presented the collection at Paris Fashion Week, the next morning's edition of the Liberation Newspaper had took half a page to feature photographs of these paper clothes. The fact that photographs of paper clothing were printed on paper in this way had amused me.
N.H: They have a completely different silhouette and sense of volume to that of fabric.
Y.M: In making them they had turned out more voluminous than I had thought. I have always been fond of crystals, and have continued to collect them. I am also very fond of printed matter and things that are made of paper. It was for this reason that I decided to bring the two things that I like together. The idea was initiated in this way, and I thought that it would be beautiful if I could create a contrast between the two. For the white clothes I used paper like you'd see in FedEx packaging, and for the other colored paper I used recycle paper. I would apply a core to the paper, or affix cloth from underneath so make it more durable and prevent it from tearing.
Forest Heights Lodge COSMIC WONDER 2004
The sun and the moon appear in your sky at the same time.
Equipment of Forest Heights Lodge COSMIC WONDER are nightwear for the daytime, sleeping bag for the daytime, pillow and bedcover for the daytime, picture for the daytime.*
N.H: Cosmic Wonder's collections would greatly change its course here on after, moving towards the direction in which groups of men and women reside within a beautiful utopia. The first of such endeavors was Forest Heights Lodge Cosmic Wonder. Then it leads to magic village.
Y.M: I had been thinking about 9.11 for a long time. I was creating works while going back and forth between different elements, but I decided to slightly step away from the realm of personal expression. In terms of production I had always had a sense of admiration towards utopian places, freedom, and the spiritual world. It was just an issue of conveying it more clearly and in a visual way. Incorporating this interest towards the spiritual world into our works is something that we continue to do today, and we decided to move more and more in this direction. I feel that we have always fluctuated between two aspects that are, the aspect that focuses on creation, and the aspect of producing clothing that embody a spiritual impression but are comfortable to wear. I suppose that what has remained consistently unchanged is the way in which we create things with an awareness towards space.
N.H: Perhaps this fundamental approach will continue to remain unchanged, both now and into the future.
Y.M: Even though we had been thinking about and doing the same kind of thing since the beginning, it was from around this point in time when I began to consider presenting the sense of direction that I'm looking at more clearly, so that its evident to anyone who sees the work. I believe that one of the roles of art is to indicate which direction one is facing at that given moment.
N.H: Recently you have relocated both your studio and residence to Miyama. Is this because you imagine it as being a utopian setting of sorts? I see it as being a process within the context of your real life, in which the clothes in space, that is to say, the utopia that you had imagined, comes to manifest as reality.
Y.M: I hope to be able to engage in creation while having a deep understanding of spirituality.
Will it be possible to create something like this from living in the mountains?
Will leading a meditative life that lies close to nature, aid me in my way?
What will be born from this?
*The poetry texts are the concepts for each collection that were written at the time.
January 17, 2017
Nakako Hayashi and Yukinori Maeda
Traslator: Kei Benjer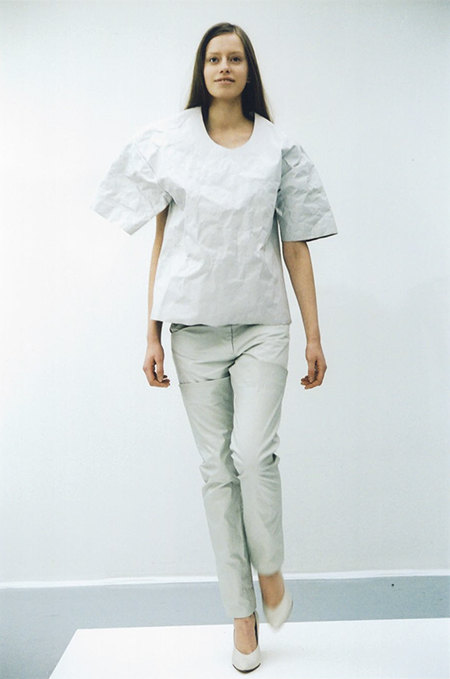 paper and crystal 2003
Photography by Shoji Fujii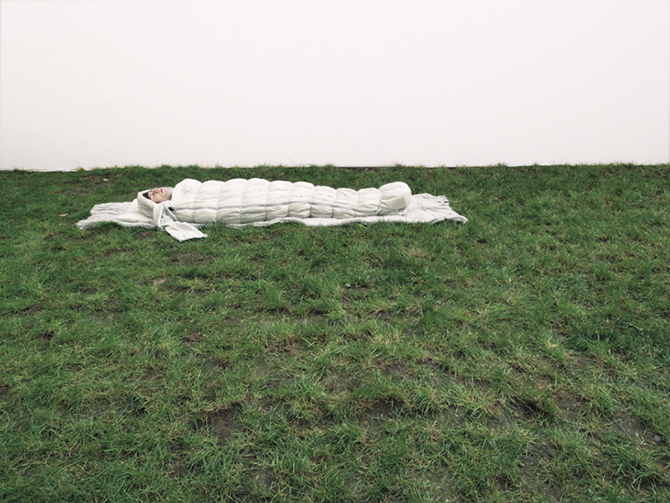 Forest Heights Lodge COSMIC WONDER 2004
Show at Cosmic gallery, Paris
Photography by Yuki Kimura
to sleep 2002
Works in which hanger, drawer, necklace, dress, T-shirt or jacket are stuck together and completed. We make one by sticking easily the things that must not stick. Due to that, we create anew worth.*
A Shadow Necessary for Windows 2002
This is one of sight in my mind. Or it may be a common sight all of us have somewhere in our mind. It seems we have a time equivocal. People repeat that day after day. Where will we stop in the end? Or is there no end?
Curtain dress and dress to pause for it.*
What invisible view should be ~ from some pictures 2003
We reappear parts that can be seen in the picture, and remove what cannot be. The performance like that cut out from pictures floats in the space, and it comes into new existence and meanings that are different from that essentially recorded in the pictures.*
N.H: These works were produced during a time when you had engaged in a succession of artistic installations.
In " to sleep," various clothing were integrated with interior furnishings for example, a drawer and a dress, and a necklace and a coat hanger. In "A Shadow necessary for windows," clothing and curtains are attached to each other, with fringes being arranged throughout. I am very fond of the installations you had presented during this period. The grey single-tone look had a very Cosmic Wonder feel, and I also liked how the fringe design had embodied a romantic element almost like a girl's comic.
In "What invisible view should be," the collection piece is a reproduction of the parts of the clothing that are visible in found photographs. What is in the shadows or outside of the image frame is deemed to not exist, and therefore the clothes consist solely of a particular part.
"A Shadow Necessary for Windows" had also caught me by surprise, but it also harbored unexpectedness in the fact that they were made of jersey material and cotton, and therefore could be worn more comfortably than one would have imagined. This collection however, had in a sense surpassed the level of surprised I had felt back then. They are clothes that cannot be worn on their own.
Y.M: There was a sense of interest in using things that are unpractical and had somehow been conceived as tools for a performance, within the context of the everyday.
N.H: This collection that seemingly presents us with a question, in my opinion, very much fits the nature of Cosmic Wonder. Was there anything that you had been intentionally conscious of in terms of the choice of images and composition?
Y.M: Instead of devising the clothes one by one individually, I had thought to create it in a way in which they would cohesively present a single impression.
N.H: It was also memorable that a poster had served as the collection's invitation card, with the found photographs all printed on a single piece of paper.
*The poetry texts are the concepts for each collection that were written at the time.
January 17, 2017
Nakako Hayashi and Yukinori Maeda
English translation by Kei Benger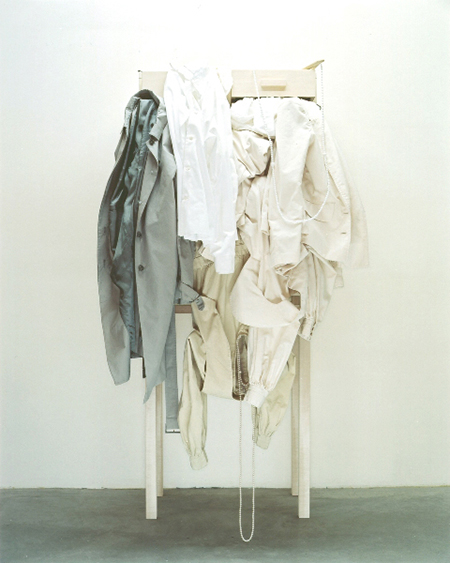 to sleep 2002
Photography by Yukinori Maeda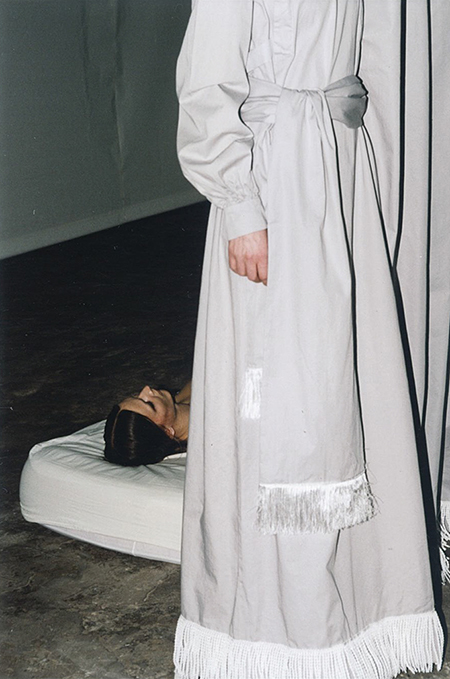 A shadow Necessary for Windows 2002
Show at  Palais de Tokyo, Paris
Photography by Yuki Kimura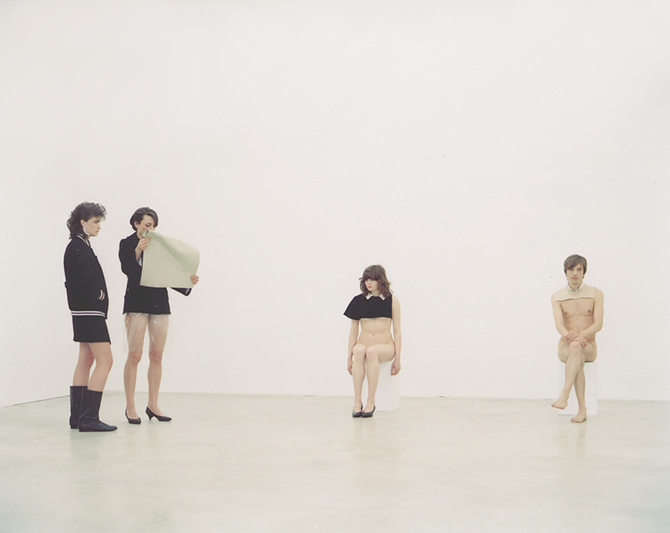 What invisible view should be ~ from some pictures 2003
Show at Cosmic gallery, Paris
Photography by Yuki Kimura