COSMIC WONDER Official Site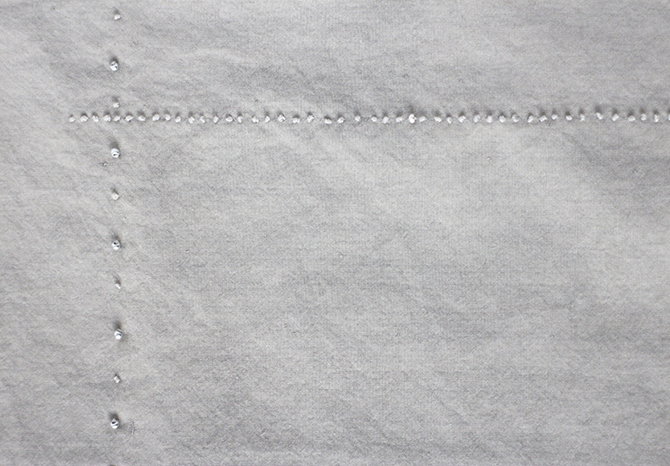 Even if I repair it
There being the clothes which I want to wear happy
Even if I repair it
The person who made clothes letting you wear it is happy again
Quietly, I do the work that is honor to join the meantime together.
From "Rectification more" Kaoru Yokoo
−
Exhibition period:
December 16 – December 24, 2017
The artist will be attending on December 16.
We sell cookies of "Yokoo" during this exhibition.
Place:
5-18-10 Minami-aoyama, Minato-ku, Tokyo
T. +81 (0)3 5774 6866
Open 11am – 7pm
Opening Event
A tea room "Biwa" of food lover Nao Uekusa opens at Center for COSMIC WONDER only for day.
Date: Saturday, December 16 / 1pm, 2:30pm, 4pm, 5:30pm
Number of seats: 4 in each time / Reached the fixed number.
Apply in e-mail. Send your name, telephone number to the following address.
New Project
"Kibou"
Kaoru Yokoo repair your CW's clothes.
The first 5 people will be accepted. Reached the fixed number.
Apply in e-mail. Send your name, telephone number to the following address.
Kaoru Yokoo
1979 Born in Tokyo
2005~ Set up atelier in Kichijoji
Active mainly on rectification by handwork such as embroidery or the crochet.
The Japanese coniferous fragrance has been respected from ancient times by people.
However, in the latest research, the fragrance of the tree has begun to know that it was a communication tool that is words.
Light of the land which grew up, wind, water, soil and relationship with around of trees.
An animals, an insect and the relation with bacteria, it is sublimated to a fragrance.
What does the human being listen to the words with?
I think that it is an opportunity to listen carefully calmly.
Masaru Kawai
−
Trees take the communication by a scent each other.
Following "Chairs" of the last year, a new point of view and a new work by the technique.
We hold a tour to follow the trees of forest in Tokyo by the guide Yutaka Miura on November 25.
Exhibition period:
November 25 – December 3, 2017
The artist will be attending on November 25.
*Closed: November 11 − 12, November 24
Place:
5-18-10 Minami-aoyama, Minato-ku, Tokyo
T. +81 (0)3 5774 6866
Open 11am – 7pm
*Open from 12pm on 25th.
Opening reception :
Saturday, November 25 / 4pm − 6pm
"Tour to follow the trees of forest in Tokyo" by the guide Yutaka Miura
Date: Saturday, November 25
9am − 12am / Number of seats: 15
1pm − 4pm / Number of seats: 15
Fee: 2,000yen
Apply in e-mail. Send your name, telephone number to the following address.
Masaru Kawai
1979 Born in Gifu Prefecture, farmer
2007~ Active as wood craft artist
2016 Start from "SOMA" product treating a Japanese conifer
Planning a workshop and fieldwork of connect forest and person.
Yutaka Miura
1977 Born in Kyoto
Graduated from the College of Art, Nihon University.
Active as a guide of the forests in Japan.
2016 "View of tree" was published from Mishima sha.
Update blog "forest forest" three times a week.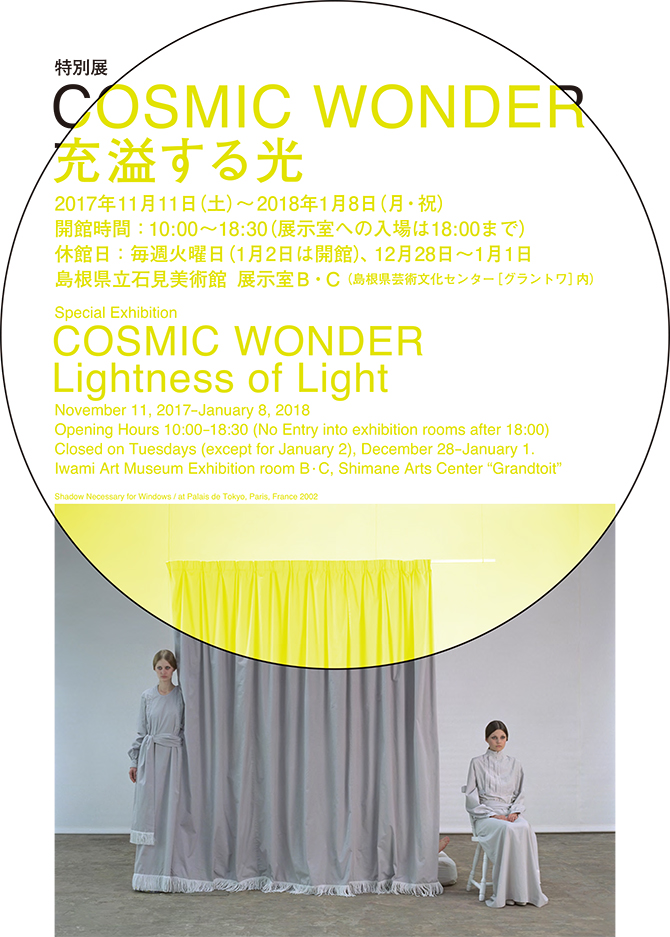 Graphic design by Kazunari Hattori
Photography by Yuki Kimura
We were pleasure to hold the 20th anniversary Special Exhibition COSMIC WONDER "Lightness of Light" at Iwami Art Museum.
COSMIC WONDER was initiated in 1997 as a conceptual project comprising diverse modes of expression from of clothing, artwork, and publishing to performance. This retrospective exhibition held to commemorate COSMIC WONDER's 20th anniversary, introduces representative works from their collections presented in Paris from 2000 to 2009, along with valuable materials including photographic documents and look books.
*From Release of Iwami Art Museum
Exhibition period:
November 11, 2017 – January 8, 2018
Place:
5-15 Ariake-cho, Masuda-shi, Shimane-ken, 698-0022 JAPAN (Tel: +81-0856-31-1860)
Hours: 10am − 6:30pm (No Entry into exhibition rooms after pm 6)
Closed: Tuesdays (except for January 2) , December 28 − January 1.
Opening talk: "COSMIC WONDER | Tozai Kokon | East meets West"
Date: Saturday, November 11, 2017 / 2:30pm −
Venue: Shimane Arts Center "Grandtoit", Main Hall Foyer
Capacity: 60 (by order of application)
Fee: Free Admission (however, an exhibition ticket or museum passport is required)
Speakers: Yukinori Maeda, Nakako Hayashi
As a guest speaker we welcome editor and writer Nakako Hayashi who has been involved in the editing of Shiseido's corporate culture magazine Hanatsubaki, and is recognized for her 2011 publication Kakucho suru Fashion (Expanding Fashion) and the exhibition that originated from it. Hayashi will be in conversation with Yukinori Maeda, founder of COSMIC WONDER, to reflect on the history and development of the project through the years, as well as the prospects it envisions for the future.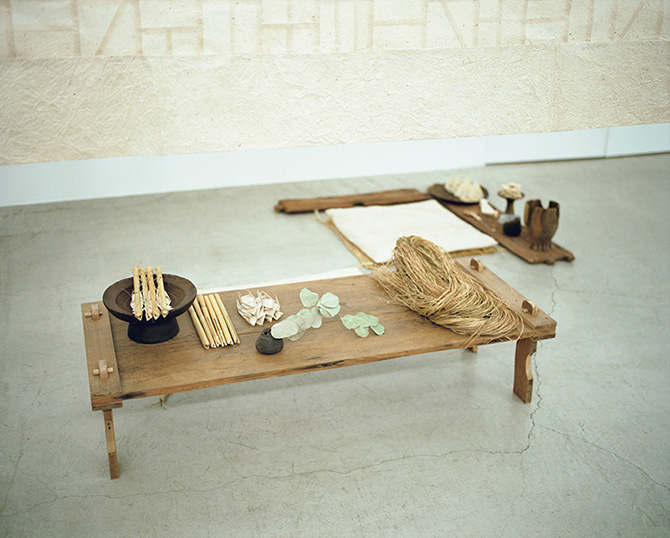 Photography by Takashi Homma
COSMIC WONDER "Ryugu Koromo from Genshi-no-Nuno" collection event will go on a tour to the following region.
Schedule:
STARDUST, Kyoto 10/14 − 22 *10/14: Public talk & concert
KAGURE, Marunouchi 10/27 − 11/5
PENNY RAIN, Kiryu 10/27 − 11/5
ANTENNE DEUX, Takasaki 10/27 − 11/5
OU, Nagoya 11/15 − 20
EIGHTY 88 EIGHT, Ayagawa 11/23 − 27
ARCHIPELAGO, Sasayama 12/2 − 11
MM BOOKS MINO, Mino 12/9 − 17 *12/9: Public talk
ROYALSKOOL, Hakodate 12/16 − 24
CITE', Hiroshima 12/22 − 1/8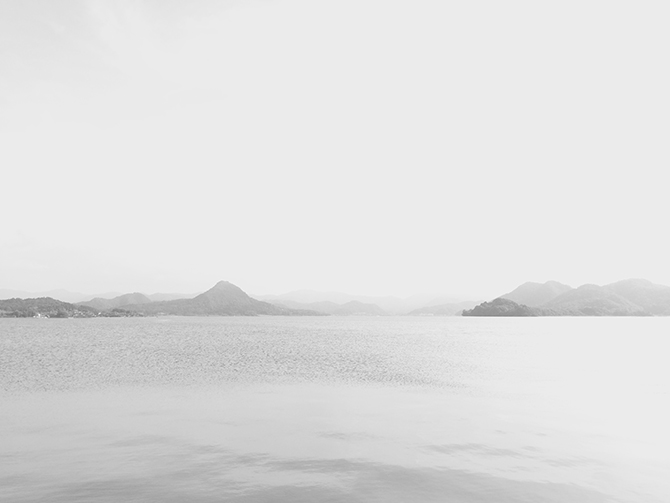 impression traveled across the continent to Japan
the eastern culture flowered and walked a new path in the island
a beautiful sunrise in the land of Tamba
TAMPA a visionary shop by Hakuden, Light and Will, COSMIC WONDER
−
Kogei Punks Sha will display Tamba's trees and grasses on the opening day.
Tamba-fu skirt
Tamba letter paper
Tamba funsei tea bowl
Tamba cray pot
Andong cloth Apron
Trees and grasses pouched bag – Linden, Hemp, Paper
Akebi vine basket
Wild grapevine travel basket
Japanese wingnut document basket
Shinodake and moutain cherry tree basket
Carved Hexagon on the end handle of broad‐leaved tree kitchen knife  
Mountain cherry tree lamp shade
Keyaki cheir
Tamba-fu and Shironameshi wallet
Jadoshi and Tamba-fu kamiko
Tamba-fu and Hemp hand bag
Jadoshi tsuno-bukuro
Lamie tabi
Linen koromo for winter
Exhibition period:
October 21 – October 29, 2017
*Closed: October 20
Place:
5-18-10 Minami-aoyama, Minato-ku, Tokyo
T. +81 (0)3 5774 6866
Open 11am – 7pm
Opening reception:
Saturday, October 21, 2017 / 2pm – 5pm
We are pleased to announce that it will hold the exhibition "Kami" by COSMIC WONDER with Kogei Punks Sha at SHISEIDO GALLERY from Tuesday, August 29 to Sunday, October 22, 2017.
The theme of this current exhibition is "paper" (kami), a material very close to many people's daily lives. Specifically, it explores the possibilities of hand-crafted Japanese paper (washi) made using only natural materials. To bring forth the deep appeal of such paper, Kogei Punks Sha has focused on "water," a substance not only basic to life but also indispensable in making washi. They propose the concept of "omizue" (water ceremony), a ritual act inspired by the Japanese tea ceremony and involving the sprinkling of boiled water as an offering of gratitude for the blessings of nature. "Kami" is also a homonym with a Japanese word for "god" or "the divine," and so the exhibition title carries this meaning as well.
This exhibition features items and craft works prepared for and inspired by the omizue ritual. These include the kamikoromo (paper garments) made by Cosmic Wonder to be worn by the ritual's host and assistants, earthenware by Naoto Ishii, wooden implements by Masaru Kawai, and washi by Seigi Nishida and Makoto Sasaki. All these were made in the image of the Jomon era, one of the earliest sources of Japanese culture.
This exhibition reconstructs the exhibition "Omizue — Iwamino-Kamito-Mizu" originally shown last year at the Iwami Art Museum in Shimane prefecture, with the addition of new works created by Karatsu papermaker Takeharu Maeda. Taking cues from the very earliest papermaking techniques, Maeda used hemp fibers as the basic raw material, combined with fibers of hamagō (a fragrant beach plant also used as a medicine) to explore new possibilities in paper. Made from such natural materials and produced using ancient handcrafting techniques, such works take on an ancient feel that refines our five senses and calls to mind the peculiarly Japanese sensibility and deep wisdom of "looking at that which can't be seen."
Exhibition period:
August 29  – October 22, 2017
Place:
SHISEIDO GALLERY (Admission is Free)
Ginza Shiseido Building B1F, 8-8-3 Ginza, Chuo-ku, Tokyo 104-0061
Hours: 11:00 – 19:00 (11:00 – 18:00 Sundays and holidays)
Closed: Mondays
Organized by Shiseido Co., Ltd.
Opening reception: Concert of Akio Suzuki (Sound artist) on 29 August
During an exhibition: Talk show with Yukinori Maeda and Sumiko Ishii from Kogei Punks Sha
See the SHISEIDO GALLERY website at for details.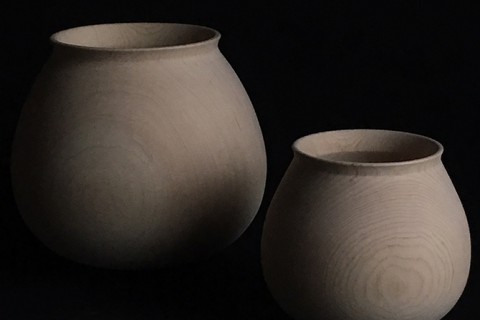 Masaru Kawai Houmokuki 2017 Japanese cypress