Harmonic Meditation
Arts and Crafts
vol.1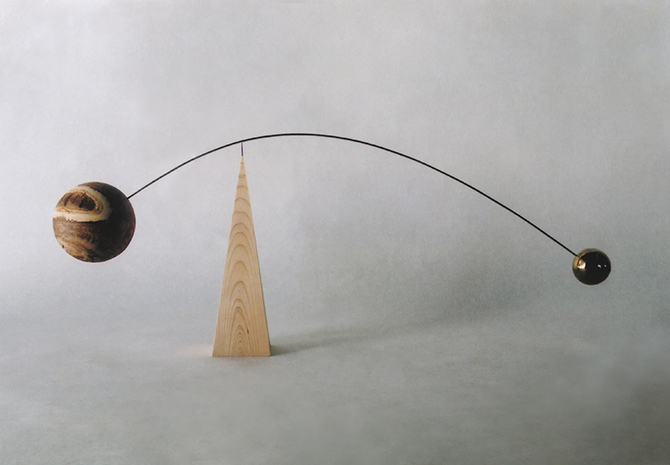 We are now connected to the universe and to our true selves.
Many people live with enlightenment.Light and shade are integrated and full of beauty.
I collected some artworks and organized workshops for Harmonic Meditation.
To capture the angel in life, I sought a piece of wood bearing an angel's impression.Inside a forest I came upon a beautiful lake and picked up decayed branches and bits of beech and squirrel wood.I searched for the angel's image but it was nowhere to be found.Soon after, I visited a friend's house and met Hiroki Tashiro, an artist who lived nearby. A piece of roughly carved wood in his atelier caught my eye.Behind its curious shape was the angel itself. Hiroki Tashiro expresses the fear of spiritual things in his creations. I think that expressing this fear is the aim of primitive art.
The beauty of a crystal seems to intensify the more you get along with it. Getting along with crystals may sound like a strange expression to those who are not familiar with them.Perhaps crystals and people are sympathetic creatures. It is said that when a loving word is applied to water, its frequency changes and its molecular shape is beautifully arranged. I wonder if quartz has the same property, but I feel that crystal is quite different and can be easily misunderstood. Yasuhide Ono interacts with crystals to create his beautiful work. I have heard that the body's tissue will adapt into a crystal body in the near future.Wearing a crystal sheath will allow you to understand yourself at a higher frequency. Of course the human body is made of water. Words of love and their vibrations are very good for the body.
I am attracted by the shape of a pot. Perhaps an octopus-shaped top attracted people in ancient times. Ceramicist Miyakono Yasuda says that a vibrational sound flows from the earthen wall. According to the waveform in the pot, a large open mouth has a low frequency, and a small mouth has a high frequency. It's a healing piece for me, sleeping with Yasuda's pot at my bedside. When a person chooses a pot, they are perhaps drawn to it unconsciously by its vibrations. A pot that comforts, a pot that ages well, a pot that creates a better space for you. Pottery may offer a better way of expressing gratitude than flower arrangements.
I always imagined that the creations of woodworker Masaru Kawai could be used by the gods. Some of his works have that sense of divine awe. Is this sensation particular to the Japanese view of nature? Kawai works with Japanese trees and thinks about what kind of mountains and forests have grown on this island country. Just imagine the scene where a tree grew up and it becomes a joy to live with wood. Much of the Center for Cosmic Wonder's furniture is made by Kawai, and my 200 year-old house is furnished with Kawai's work along with old Korean pieces. For me, it is not strange that Kawai's furniture matches the old techniques. To change the subject, what about the mountains of Japan? Many cedars have been planted in the mountains and left untended.The scenery of solar panels that make effective use of the mountains feels lonely. Is it really necessary to destroy the landscape of the sato-yama so thoroughly? Cedars grown for logging have shallow roots and can easily fall down, and when planted densely, the cedars sense the danger and produce a large amount of pollen. Planted cedars must be managed and used. There's no sense in planting cedars that won't be managed. There are cedar mountains and barriers to control soil erosion around my house. This is a problem that must be solved someday. Kawai's coniferous forest project SOMA will be a good opportunity to change the mountains of Japan.
It has always been natural for the Japanese to supplement clothing fabrics with grass and wood fibers from the mountains and fields. This is a vital heritage as natural fabrics are on the brink of disappearing. It is only in recent history that cotton became popular. Natural fabrics include hemp and ramie, elm, wisteria, kudzu, paper, mulberry, banana tree, and so on. The work of a Japanese farmer was once a daily task of going to the mountains to procure materials, burning ash juice, knitting, and weaving.I received an old linden cloth from Kei Kawasaki of Gallery Kei who works with old fabrics and folk goods in Kyoto. Kawasaki is an expert on natural and antique fabrics from around the world. The linden cloth was full of holes so I asked Kaoru Yokoo to mend the material. It seems that the fabric was used as a steaming lid, and Yokoo described the steam with beautiful silver embroidery. Yokoo is a genius who connects the garment with its owner by reviving a damaged piece that has been worn repeatedly. With every repair of the garment, a story is extended, woven in with her careful hand. It would be interesting to trace the memory of cloth and see into its past.
Sep 01, 2019
Yukinori Maeda