2022-11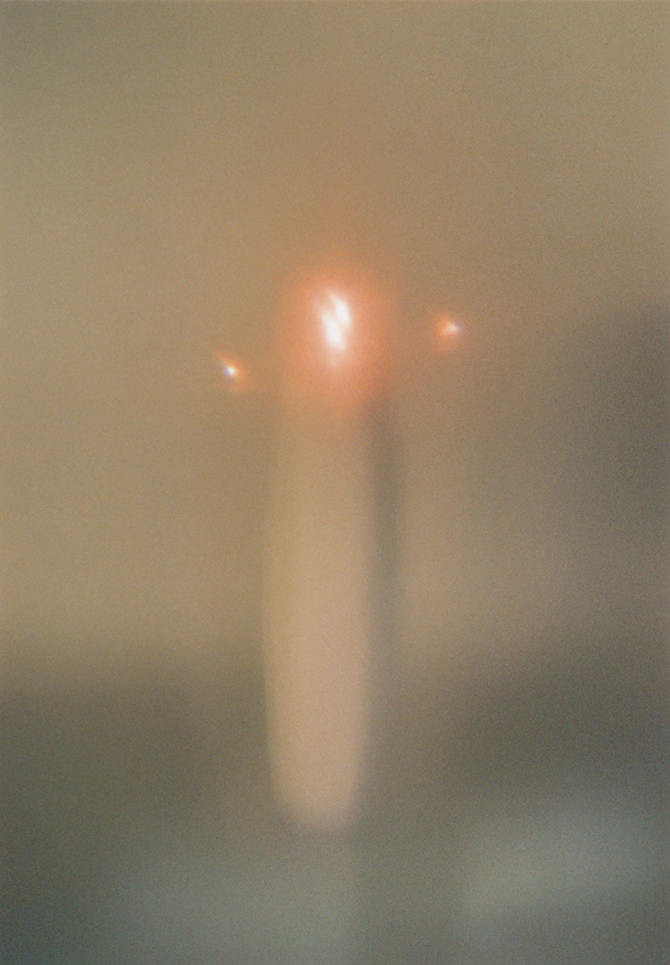 We are pleased to present rinn to hitsuji's "Inner Nature" exhibition.
rinn to hitsuji's Rie Suzuki creates graceful rays of light that spring forth from the wicks of her beautiful candles.
Created by hand and with heart, the candles are made with beeswax and natural waxes extracted from soybeans and then blended with natural essential oils for fragrance. Humans are nature itself and the soul is the universe itself. We asked the participants to create candles that illuminate the soul so that we can gaze at this beautiful light that is also within.
On the first day of the exhibition, we will have pain d'epices by Daisuke Nakayama of Makibino who grinds wheat grains on a millstone, kneads the dough by hand, and bakes the bread in a wood-fired oven.
This traditional French pastry with preservative properties was spread by the Crusaders during their expeditions in ancient times. He used to carry pain d'epices in his bag from France during his pilgrimage to Spain. He started baking pain d'epices because of the many happy experiences he had communicating with people from all over the world who were going on pilgrimages even though they did not understand each other's languages.
Please come and light a candle and enjoy some thinly sliced pain d'epices as we celebrate the arrival of the winter season.
We sincerely look forward to your visit.
Dates: 
Saturday, December 3 – Sunday, December 25, 2022
Makibino's pain d'epices will be on sale on Saturday, December 3, 2022.
Venue :
Center for COSMIC WONDER
5-18-10 Minami Aoyama, Tokyo
T. +81 (0)3 5774 6866
Open noon – 6pm
*Winter holidays: Monday, December 26 – Wednesday, January 4, 2023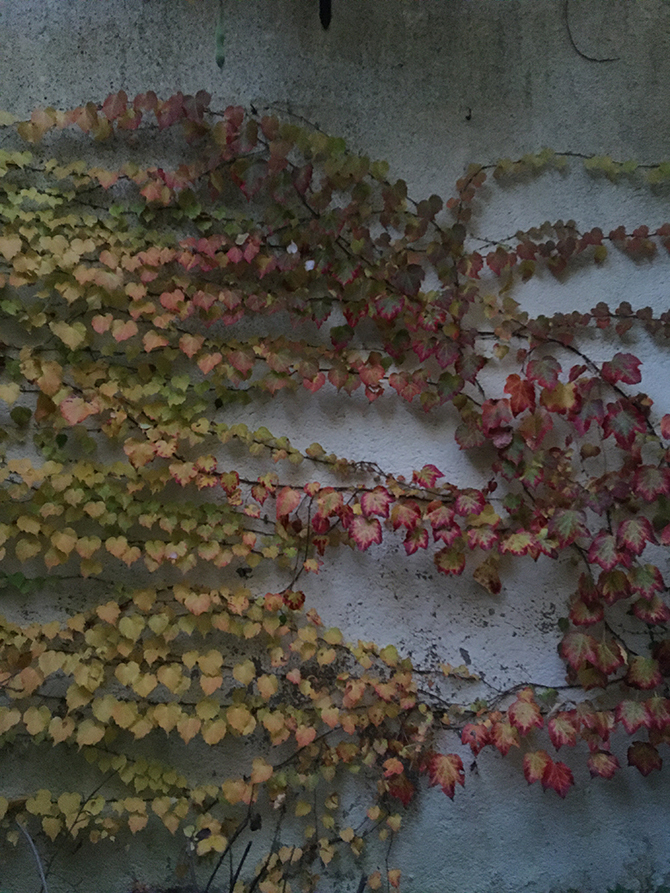 Beige and brown trees — last Summer trees became brown, some died of thirst, green slowly disappeared from the landscape. Summer looked like Fall. Sometimes clouds appeared in the sky, it became darker and darker, we thought it would finally rain, and it did, a few drops, during five minutes. Water in the rivers was low or they were completely dry. But now it is Fall, walnut trees are bright yellow and one morning the fog came back, erasing the landscape. It was on September 27th, precisely, I was driving to a city nearby and that's when I saw the return of fog. I live at the cross of two valleys, sometimes the fog is above us, like a white blanket in the sky, the hills disappeared and the village is left alone in the whiteness. 
Another sign of Fall is the presence of horse-chestnuts in the streets. Two days ago I picked some. A friend had just told me moths do not like the smell of horse-chestnuts. Moths are small butterflies which eat wool. Just after I found out, I took my bike and went to pick some, just in time as they had all fallen from the trees and were becoming dry. I didn't find as many as I would have liked. I have a special love for wool, and a special love for clothes, so my house contains lots of wool clothes ! Next year I plan to pick hundreds of horse-chestnuts. 
I also noticed beautiful collars of red five-leaved ivy hanging on stone walls, in my garden the wisteria is turning yellow, and pink Japanese anemones are blooming. But still, it is not raining, yesterday it was 27 degrees and roses are still blooming.
Elein Fleiss
October 20th, 2022
Photography: Elein Fleiss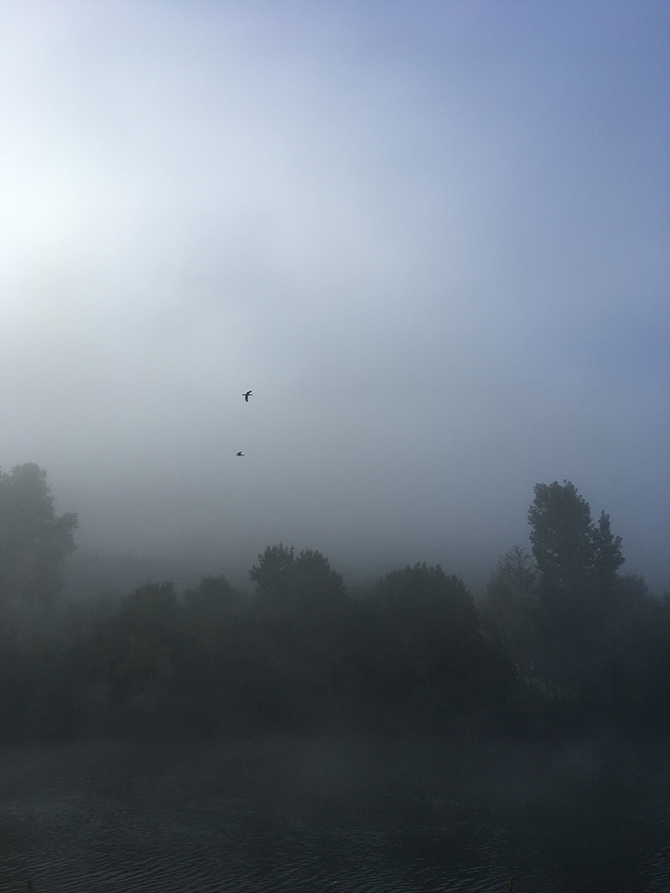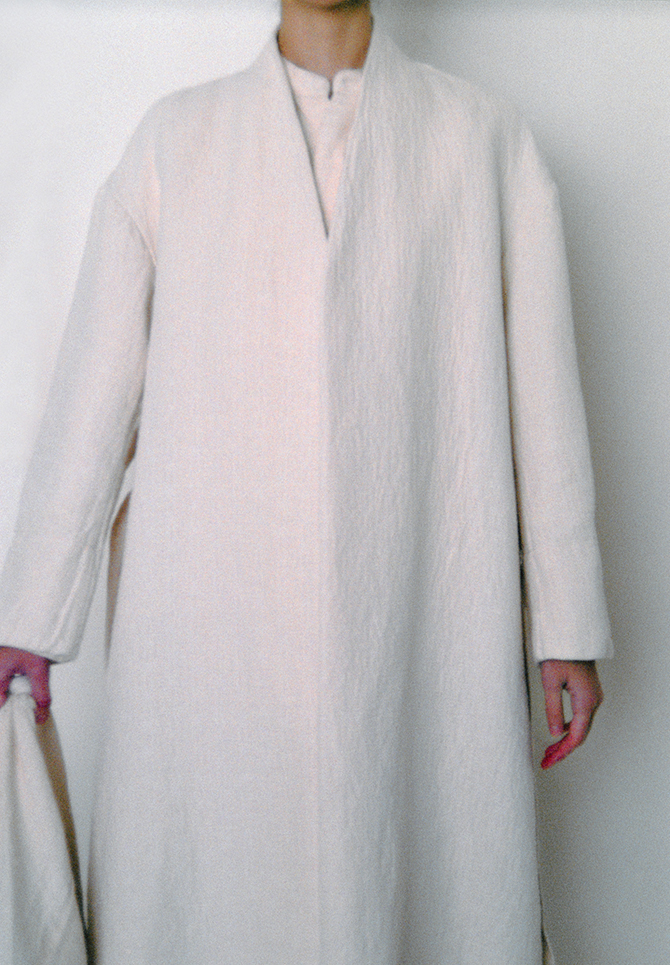 Flower of Life pattern express the light the infinite universe, Sashiko weaving is a cross weaving of hemp and organic cotton.
This collection includes haori coat with three-dimensional sleeves and tattuke(Japanese workwear), shirt with gathered necklines, shirt wrapped dress, night dress and tsunobukuro from old japanese harvest bag shapes. Colors are washed-out Natural, Sumi-ink dyeing, Earth soil is produced by mud dyeing in Amami Oshima.