2018-11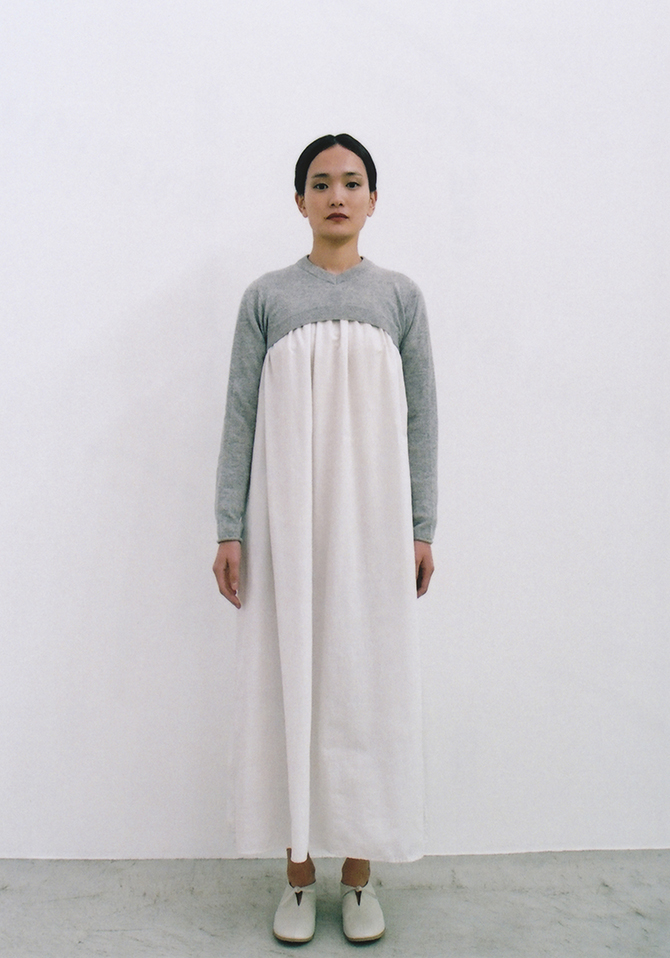 Cashmere knit v-necked accessary parts, Khadi fork dress
Knit Collection for warmth of winter days.
Cashmere knit v-necked sphere sweater, sphere dress, v-necked accessary parts and turtleneck accessary parts.
Iceland wool knit big collar cardigan and apron dress.
Tasmanian wool knit sweater, sphere dress, pants and blanket. 
A gift from loveable products that live in a natural environment, Wrapped in full warmth, Knit collection of all will be available at Center for COSMIC WONDER.
5-18-10 Minami-aoyama, Minato-ku, Tokyo
T. +81 (0)3 5774 6866
Open 11am – 7pm
*Closed: December 5
Center for COSMIC WONDER Online Store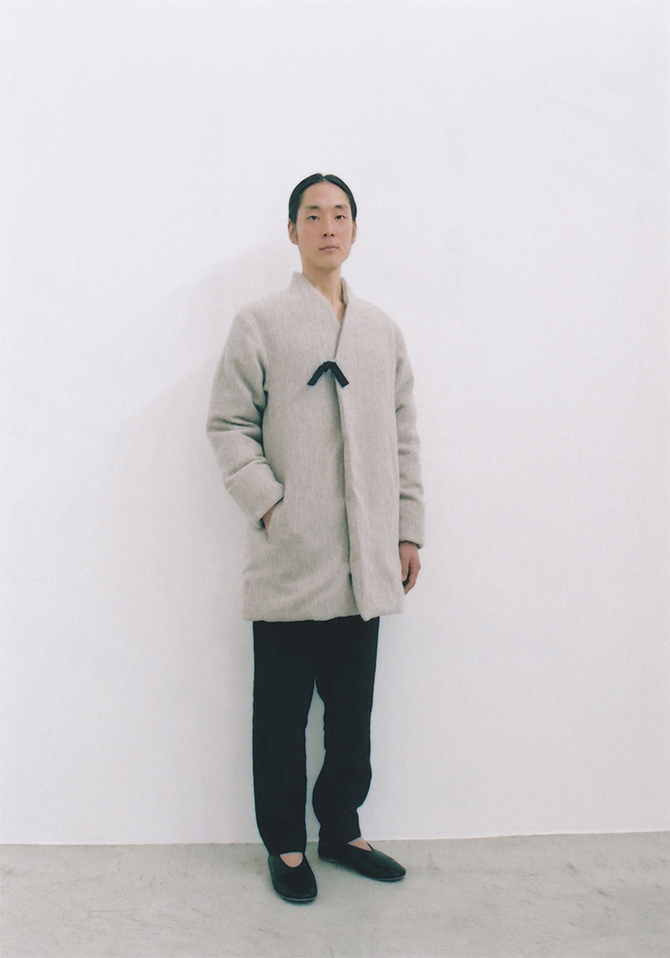 Wool and linen folk down coat
Wool and linen folk down coat and Linen koromo of winter folk down vest.
Light weight and heat-retaining properties.
Outer fabric of Down coat is made of wool linen, Down vest is made of thick linen fabric.
Inner cotton is using Down 90% and Feather 10%. 
The daily clothes that we spend warmly in winter Satoyama.
5-18-10 Minami-aoyama, Minato-ku, Tokyo
T. +81 (0)3 5774 6866
Open 11am – 7pm
*Closed: October 3
Center for COSMIC WONDER Online Store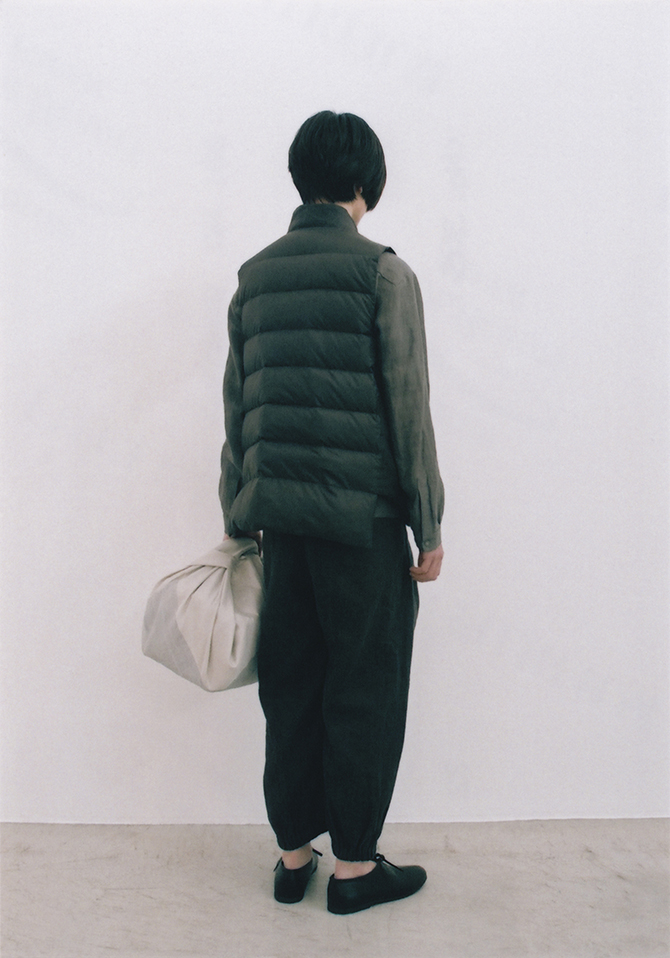 Linen koromo of winter folk down vest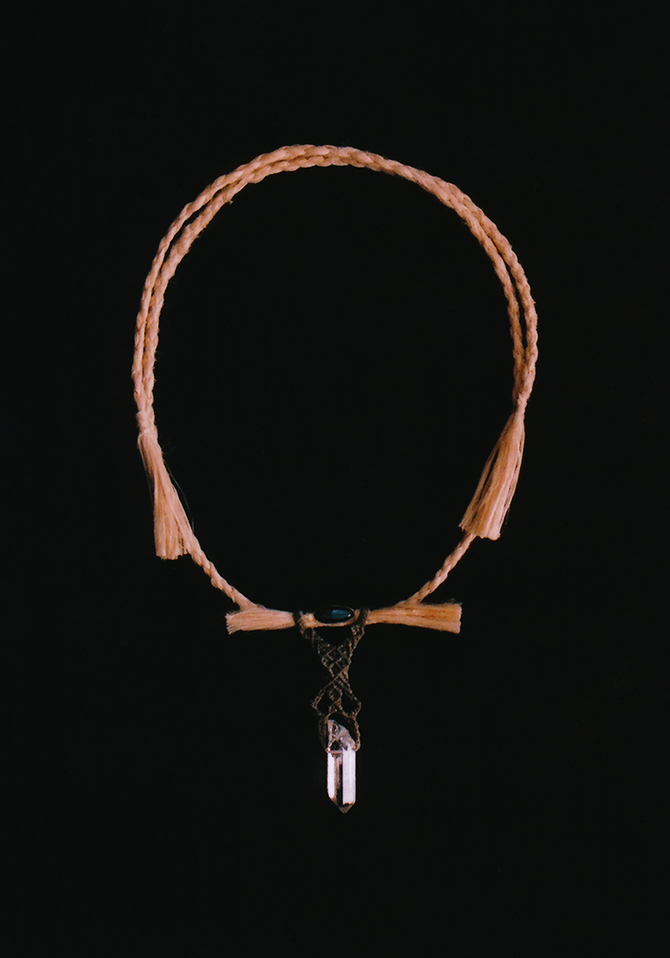 I am making jewelry using minerals, old materials that passed the time.
That piece produced by Mother Earth is a condensation of thousands, tens of thousands of years time
I wear a part of the earth 
The origins of jewelry as a magical way rather than as an organizing purpose
It started as an amulet that protects us from foreign enemies
It was later used as a symbol of authority around the world
From there it became a decorative item until the present age
It was to measure differentiation from others to dress up
How was the meaning of things originally born
It was because the relationship between things was meaningful
It seems that its relationship has diminished in this modern era
I want to regain that relationship again 
I an making it with such feelings
Act of knitting
One braid knitting is time volume
Respect for possible minerals
I can put it in one braid
To shave stones
To make it look more beautiful
The strength seen in the roughness of the gemstone is also
The translucency which looks delicate as it seems to be broken
The existence which combines the properties of both polarities
Melt the gold and make the mold and put the stone
It will sometimes walk together the life 
It is not gorgeous 
It is like raising a cuddling feeling for that person's daily life
I would like to keep making such things.
Having a place where people and objects are connected
I moved the residence to the countryside
Produce in a place surrounded by nature
To the gallery that remodeled the poultry house of 80 years and worked as a studio is a place where old things and new things mix
Modern values of discarding to destroy when it gets old
You can still use it if you add a little
There is the history of the former owner and there is beauty that added time
I'm deeply aware of Japan while traveling the world
Distinctive values such as rustling and lonely
Postwar Japan seeks economic development
It continued to pursue its culture and values as aiming for the United States and Europe
But as a result it is losing aesthetic sense of your country
Western religious views seeking one god
Difference in religious view of Japan that finds God everywhere in the nature of 8 million gods
Oriental and Western culture, values, view of religion, aesthetic sense etc.
We recognize the difference between them and hybridize in various ways
Old items of foreign countries in a country are arranged side by side
Made using materials such as earth, wood, iron, paper, cloth, glass, plants
A place to express works created throughout the life of the producer
As a place to connect people and people,
People and things, things and things
I will continue to learn interesting and learn from now
I seriously dream about a bright peaceful future
And I want to have a love and a passion
love & happy & peace & freedom
yasuhide ono
−
We are pleased to present "Utsushiki" by Yasuhide Ono at Center for COSMIC WONDER.
Yasuhide Ono creates unique and beautiful jewelry combining various techniques using crystal and minerals.
The delicate ones, mainly minerals will connect the earth, the universe, and the sprit world here, contain what is to be worn by the ancient wisdom and what is intended to build the future and an obvious intention.
In addition, Ono made a space called "Utsushiki" in the village located between Fukuoka city and kita-kyusu.
It was dotted with works produced by Ono, old tools brought back from Japan and India, warm clothes of hands, proposing delicious food, Ono's workshop, and the lives of his own family it depends on space, A space of "Utsushiki" appears together with Yasuhide Ono at Center for COSMIC WONDER.
−
Exhibition period:
November 16 − November 25, 2018
*The artist will be attending on November 16, 17
Place:
5-18-10 Minami-aoyama, Minato-ku, Tokyo
T. +81 (0)3 5774 6866
Open 11am – 7pm
*Closed: November 15
Opening Reception:
Friday, November 16 / 5pm − 6pm
The performance of old instruments by Mirai Matsumoto and Maika of baobab in Oita prefecture.
Saori Tashiro "Utsusiki" Tea ceremony:
Friday, November 16 / 11:30am, 2pm
Saturday, November 17 / 11:30am, 2pm, 3:30pm, 5pm
Number of seats: 4 in each time / Reached the fixed number.
3,000 JPY
Yasuhide Ono
Born in 1985
Started the career of accessory making in the world wandering
Warmth of handmade without the same thing as one  in the world, to convey the charm and history of natural stone, he make it with goal to be involved in everyday life of as many people as possible
From hand to hand, to that person's special things
Saori Tashiro
Born in Shizuoka 1984
Emigrated to Miyawaka-shi, Fukuoka prefecture in 2014
atelier gallary"Utushiki" is start working on a personal activity at the same time 
She is interested in spices and herbs
Ayurveda leaning at a hospital in SriLanka
Currently, Tea ceremonies with herbs held in various places
baobab
maika / Fiddle, Fidel, Vocal
Mirai Matsumoto / Guitar, Citol, Runessanse Guitar, Vocal
Expression of Old instrument, Modern instruments, Irish, Ancient music, Folk with free arrangement and style.
We are transmitting the air and the season moving through our days, the scenery and feeling we have found in the countryside life as.
The album made by independent production records a long seller in an indie scene.
Every summer, in the forest of Katerina, we organize the whole forest itself, sponsoring the music festival "Sing Bird Concert" which forcuses on the integration of the natural environment with people, music, art and living.
It collects a lot of sympathizers and it is the core of expressive communication from the area.