2021-06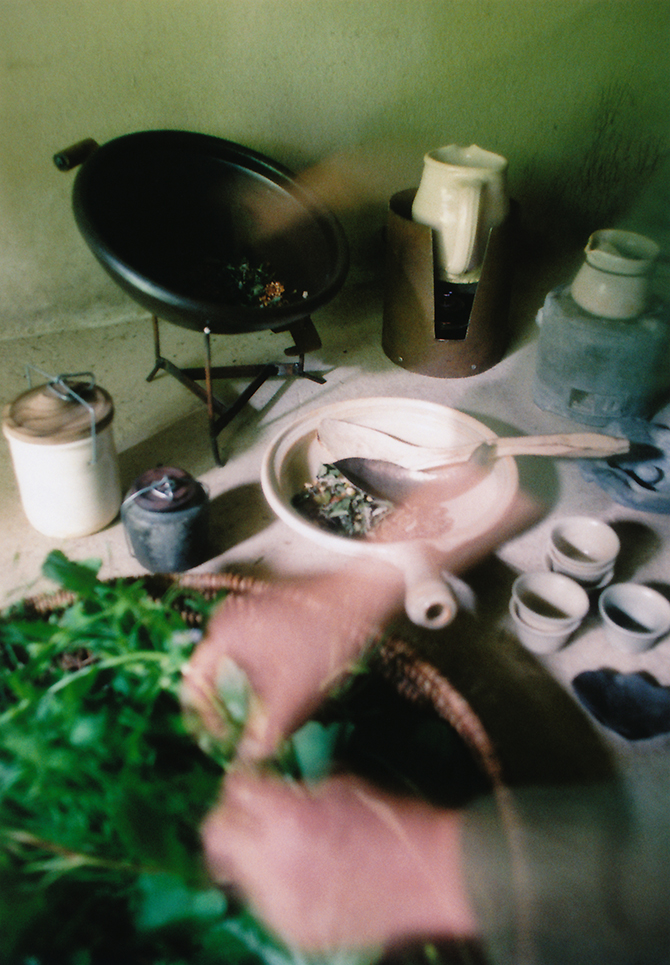 We are pleased to present Takashi Ichikawa's exhibition, "Rethinking of the Plants", at the Center for COSMIC WONDER. For this exhibition, he will share his unique perspective on tea, wild grasses and medicinal herbs, and how they can bring our lives into harmony with nature. Interacting with water, plants, and fire is an essential joy that reconnects us with the elements of nature. This exhibition envisions a lifestyle flush with wildflowers, as well as distillers, roasters, and utensils for boiling tea. A workshop and a tea ceremony will be held with two members of yasousora who have been integrating wildflowers into their daily lives and exploring their mysterious powers. Learning about and touching wildflowers liberates the body and mind and brings a sublime enrichment to our days.
−
Now is the time to rethink the things in our own immediate surroundings.
It was five years ago that I came across a tea tree so large that I had to look up. The difference between the image of a tea tree and the image of a tea plant became an attraction, and a switch was flipped for me to rethink my idea of the plant. The experience of looking around and picking things up that interest me, such as tea and cooking, moves me to appreciate the wisdom of our ancestors and gives me a sense of gratitude for nature. And then I think. Tools and technology have disappeared with the changing times, and some of our senses have dulled as our lives have become too convenient. Now that the world is changing, there is a way to fortify our immune systems with the help of nature and plants. Plants work hard to protect their seeds. The power of plants is amazing. I would like to increase my sensitivity to plants by learning about their power from experts. Flowers, leaves, stems and roots. Beans, powder, and leaves. Let's enjoy the power of plants. Attractive things are close at hand. If we turn on the switch, we can see them.
I want to make a tool that will turn on the desire to rethink our relationship to plants.
Takashi Ichikawa
−
Exhibition period:
June 26 – July 4, 2021
The artist will be present on June 26 and 27.
Location:
5-18-10 Minami-aoyama, Minato-ku, Tokyo
T. +81 (0)3 5774 6866
Open noon – 6pm
Opening Event:
1. Workshop sora's wild grass tea Demonstration of how to make wild grass tea.
The possibilities are endless for making tea from the wildflowers that grow all around us.
You can enjoy some wild grass tea with Ichikawa's tea utensils.
Saturday, June 26
noon − 2pm
3pm − 5pm
Fee: 8,800 JPY (with wild grass tea)
Reservation required / Number of seats: 4
*All the seats are booked.
2. Tea Ceremony "sora"
"Medicine" of the fields.
Medicinal herbs from Mount Ibuki, Wild grass tea collected and blended in sora's field.
You can enjoy some wild grass tea with Ichikawa's tea utensils.
Sunday, June 27
noon − 1pm
2pm − 3pm
4pm − 5pm
Fee: 6,600 JPY (with wild grass tea)
Reservation required / Number of seats: 5
*All the seats are booked.
−
yasousora / Gendou Sawamura Hina Sawamura
Wild grasses connect us to ancient times, and to the universe itself.
It is our hope to educate others about the benefits of the wildflowers and wild grasses that surround us.
We are based in Fukuoka Prefecture.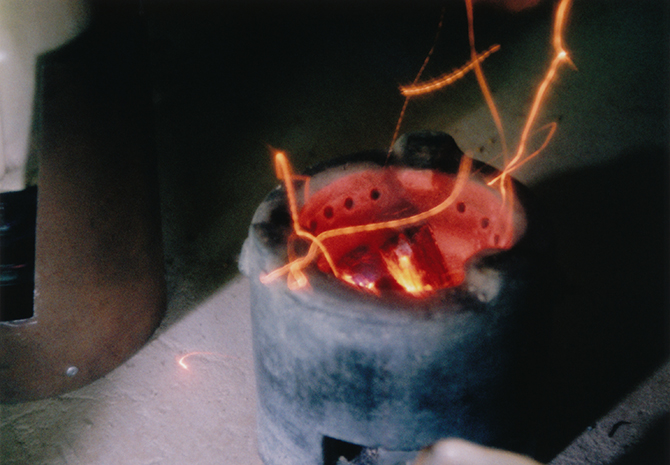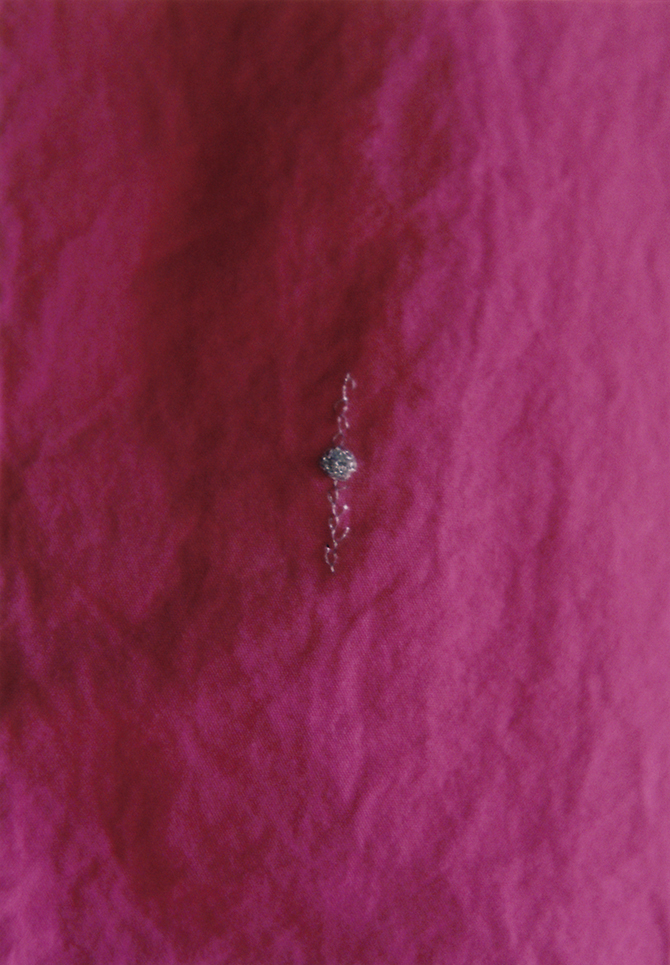 We are pleased to present repaired the clothes collection of Cosmic Wonder with Kaoru Yokoo "The Awakening Universe". From the Cosmic Wonder 2021collection "Days of light", Yokoo will present the world of repairs with beautiful and harmonious humor.
Cosmic Wonder's clothing which has dyed natural materials occasionally some things that can not be sold due to color spots and fabric cracks. Kaoru Yokoo will perform art handwork such as embroidery and knitting to breathe new breath to them.
Center for COSMIC WONDER will be available from June 26. It will end as soon as it is sold out.
On the same day, the exhibition "Rethinking of the Plants" by Takashi Ichikawa will also be held.
Kaoru Yokoo
1979 Born in Tokyo.
Started from 2005, Active mainly on rectification by handwork such as embroidery or the crochet.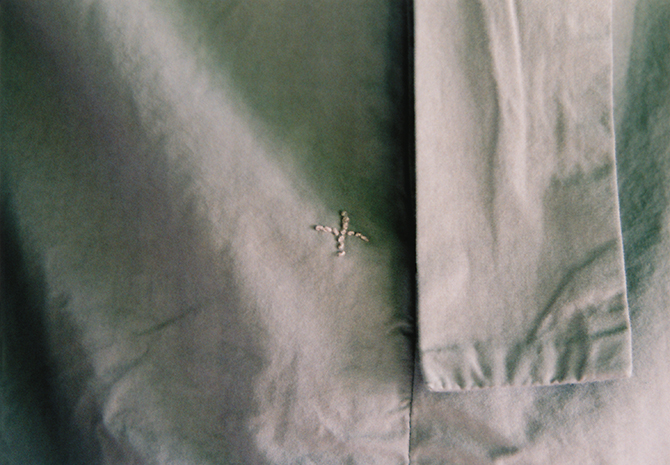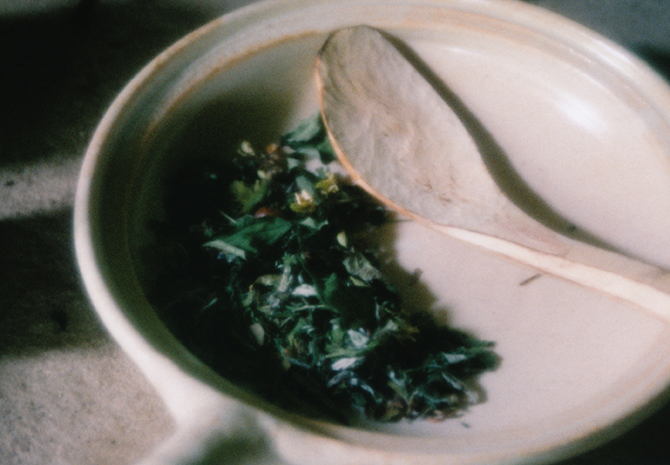 Medicinal plants are wild grasses
Wild grasses are the herbs of medicine
Medicine is found in the wild
Wild grasses are connected to the ancient earth.
They have coexisted with the earth since long before mankind.
Grasses are full of life force
The minerals of the earth
The energy of the field
By taking in the power of the plants and grasses into your body
the ancient earth and the cells of living things resonate with each other
your body and mind will be in harmony
Free and easy
To use the five senses
To loosen and open the mind and body
To be bathed in the light of the sun
To breathe deeply
To take in the scent of the grass, the drops of the grass
To let the blood flow through the body
To take in the memory of the ancient earth
We call it wildflower tea.
Each grass has its own name and role
that supports the life of all living things
It provides food, clothing, housing, and spirit for all living things.
In the past, people and grasses were very close.
Once again
As in the past
as something close
Instead of keeping the grass away from the soil
Now is the time to make the wild grass our friend
We are continuing our wildflower activities with the hope that they will be useful in our daily lives
Our axis is the natural world.
To put down roots in the earth
To have a connection with the soil and the grass
To enrich our hearts and lives through grass
When we face the wild grasses and weeds
We learn that everything we need is provided for us
We don't have to depend on others, and we don't have to look only to the outside
Now is the time to rethink our relationship with our surroundings
We remember when we were good friends with the earth and grass
If we do that
A bond between people and plants
may be born again
With the rapid changes in the environment, the culture of wildflowers seemed to have died out
But thanks to our ancestors, we are now able to learn about it
We can again become familiar with
Forgotten,
Cut off
Neglected plants and grasses
Wild grass
Rethinking Plants
Returning to Nature
May 27, 2021
yasousora