Masaru Kawai
by trees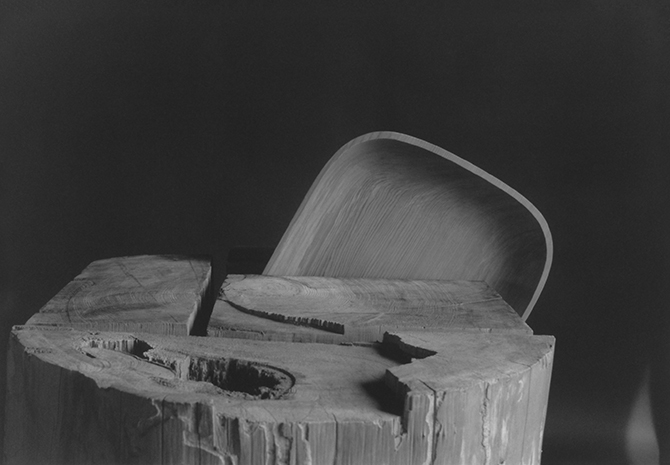 Furniture, flooring, dishes, or pencils that we usually see.
The trees used for them were originally grown in the mountains. Someone cut it, someone sawed it, and someone made it.
But do you fell there? What kind of mountain did you live on?
The Japanese view of nature changed dramatically after the 1964 Olympics. A line was drawn between people and nature.
And again, the Olympics are coming. I am scared.
I want to be by nature a little more if I can do it.
Masaru Kawai
—
We are pleased to present the 3rd solo exhibition; Masaru Kawai "by trees".
We live in the natural and live in symbiosis, in recent years we have done all things with the concept separated from nature.
And We feel the limit to that, and many movements to restore each view of nature take place among the artists active in the same period.
Kawai puts the concept of mountains, trees, and nature into a strong concept, and produces beautiful works that include mythical features such as offerings to the natural world.
In this exhibition, Kawai will present works that evoke the awakening of nature and universal beauty that all of us possess.
And also the works of the Japanese coniferous forest project SOMA.
On the opening day, We will have a breakfast party "The beauty of nature  / Memories of life" with Kawai, Dr.Toshiro Inaba, and Shiori Goto.
We talked about the source of the beauty after eating Shiori goto's breakfast.
Exhibition period:
August 3 – August 11, 2019
*The artist will be attending on August 3
Opening Event:
Breakfast party "The beauty of nature  / Memories of life"
Masaru Kawai, Toshiro Inaba, Shiori Goto
Date:
Saturday, August 3 / 9:00am – 11:00am
Reservation required / Number of seats: 15
4,500 JPY (All the seats are booked.)
Place:
5-18-10 Minami-aoyama, Minato-ku, Tokyo
T. +81 (0)3 5774 6866
Open 11am – 7pm
*Closed: July 23 – August 2
Masaru Kawai
Born in 1979, Gifu Prefecture farmers
2007~ Start as woodworker
2016 Start from "SOMA" product treating a Japanese conifer
Planning a workshop and fieldwork of connect forest and person.
Toshiro Inaba
Doctor, Assistant Professor of Cardiology, The University of Tokyo Hospital. Doctor of Medicine.
Born in 1979, Kumamoto prefecture
Representative books "Awaken of anima" Published by anonima studio.
Shiori Goto
After Bhutan restaurant and Vegetable restaurant, became independent in 2012.
Based in Setagaya, Tokyo, as catered food and catering chef.