Takashi Ichikawa
"Chaguruma and form afterword and Tools of Tea"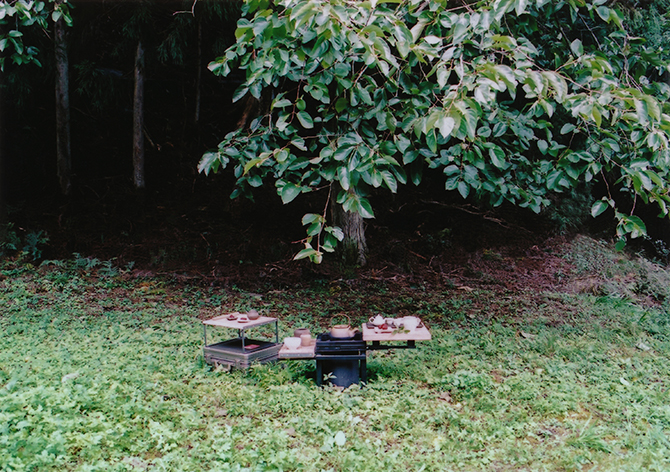 Taking a cup of tea again, it seems to be an event of "Earth, Water, Leaves, Sun and Fire", feeling fresh appeal to tea, I started to make teaware and tea pleasant tools and "Chaguma and subsequent forms and tools of tea".
When I noticed, it seemed to me that there were a lot of clothing, food and dwelling "Earth, Water, Leaves, Sun and Fire".
Among them, the role of fire and water is large, it is too wide to clean up with the word of natural material, it is natural, it feels difficult to see.
Therefore, I would like you to enjoy "Fire, Water and Plants"with tea and sweets during the exhibition.
Takashi Ichikawa
−
Following "Chaguruma"* of the last year, we are pleased to present Takashi Ichikawa "Chaguruma and form afterword and Tools of Tea" exhibition at Center for COSMIC WONDER.
Ichikawa has completed making tea utensils "Chaguruma No.1" for taking out to fields and forests, and continues to produce tea-packed tools that are adapted to the various tea places now. 
The background was the appearance of "Cha-rry" shaped like a trunk and "Cha-unter" which can play tea on river moistened the senses and heart of guests.
Mr. Ichikawa speaks of tea while feeling "Earth and Water, Leaves, Yang and Fire".It may be in the pleasures of spreading consciousness heading there, discovering the connection to the universe in the space of tea and tea.
In addition, Ichikawa is doing the project of "Cha-yu-ki" to communicate the charm of tea with friends who love tea with the trip.
Ichikawa hold tea ceremonies in Sendai, Czech Republic, Guizhou, Jingdezhen, Sichuan, Yunnan, Inner Mongolia, Xian, Wuyishan.
The record of a tea ceremony that is beautifully shaking in a magnificent journey thorough the connection of tea is published  "Cha-yu-ki" in this year.
We will exhibit and sell the new tea tools in this exhibition.
On the first day of the exhibition, We will hold a tea ceremony "Fire and Water with Plants" by Ichikawa, Cooking artist of Nao Uekusa and Sound artist of MAMIUMU.
*Chaguruma: Mobile storing table for exclusive use of the tea
Exhibition period:
October 27 – November 4, 2018
*The artist will be attending on October 27 and 28
Place:
5-18-10 Minami-aoyama, Minato-ku, Tokyo
T. +81 (0)3 5774 6866
Open 11am – 7pm
*Closed: October 15, October 26
A tea ceremony "Fire and Water with Plants" 
Date:
Saturday, October 27 / 11:30am, 2:30pm, 4pm, 5:30pm
Number of seats: 6 in each time / Reached the fixed number.
4,500 JPY
Nao Uekusa
Vegetable and Dry matter and Condiment. She mainly cook vegetable dish after feeling the season.
Food packed, Catering, and Cooking class. Live in Tokyo. Activity name is"Biwa"
MAMIUMU
A voice by its own utterance method. Performances using instruments and tools such as glass harp, Liar, Flute, Drum, Tree, Stone, Metallic ringing etc.
It appear the time and space of the sound, to become one and create.