KAMI COSMIC WONDER with Kogei Punks Sha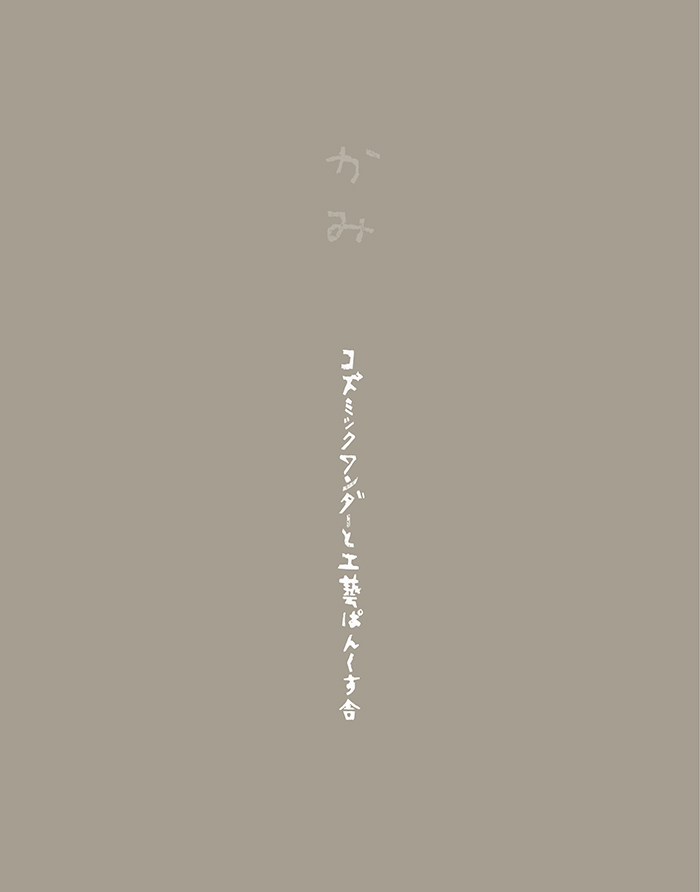 We are pleased to announce that it will hold the exhibition "Kami" by COSMIC WONDER with Kogei Punks Sha at SHISEIDO GALLERY from Tuesday, August 29 to Sunday, October 22, 2017.
The theme of this current exhibition is "paper" (kami), a material very close to many people's daily lives. Specifically, it explores the possibilities of hand-crafted Japanese paper (washi) made using only natural materials. To bring forth the deep appeal of such paper, Kogei Punks Sha has focused on "water," a substance not only basic to life but also indispensable in making washi. They propose the concept of "omizue" (water ceremony), a ritual act inspired by the Japanese tea ceremony and involving the sprinkling of boiled water as an offering of gratitude for the blessings of nature. "Kami" is also a homonym with a Japanese word for "god" or "the divine," and so the exhibition title carries this meaning as well.
This exhibition features items and craft works prepared for and inspired by the omizue ritual. These include the kamikoromo (paper garments) made by Cosmic Wonder to be worn by the ritual's host and assistants, earthenware by Naoto Ishii, wooden implements by Masaru Kawai, and washi by Seigi Nishida and Makoto Sasaki. All these were made in the image of the Jomon era, one of the earliest sources of Japanese culture.
This exhibition reconstructs the exhibition "Omizue — Iwamino-Kamito-Mizu" originally shown last year at the Iwami Art Museum in Shimane prefecture, with the addition of new works created by Karatsu papermaker Takeharu Maeda. Taking cues from the very earliest papermaking techniques, Maeda used hemp fibers as the basic raw material, combined with fibers of hamagō (a fragrant beach plant also used as a medicine) to explore new possibilities in paper. Made from such natural materials and produced using ancient handcrafting techniques, such works take on an ancient feel that refines our five senses and calls to mind the peculiarly Japanese sensibility and deep wisdom of "looking at that which can't be seen."
Exhibition period:
August 29  – October 22, 2017
Place:
SHISEIDO GALLERY (Admission is Free)
Ginza Shiseido Building B1F, 8-8-3 Ginza, Chuo-ku, Tokyo 104-0061
Hours: 11:00 – 19:00 (11:00 – 18:00 Sundays and holidays)
Closed: Mondays
Organized by Shiseido Co., Ltd.
Opening reception: Concert of Akio Suzuki (Sound artist) on 29 August
During an exhibition: Talk show with Yukinori Maeda and Sumiko Ishii from Kogei Punks Sha
See the SHISEIDO GALLERY website at for details.