Japanese handcrafted baskets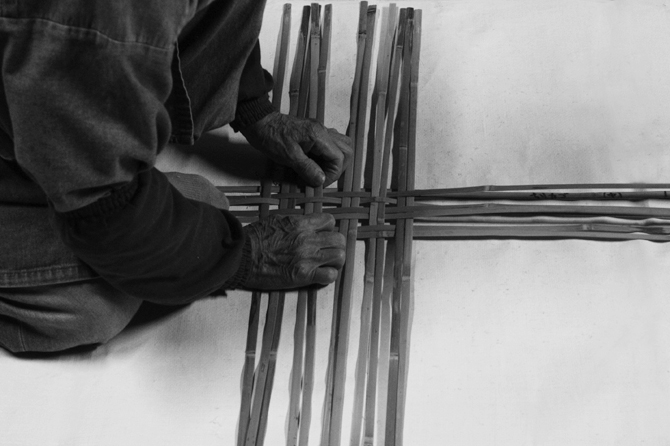 Japanese handicrafts made with natural raw materials are an embodiment of appreciation, awe and respect for nature.
They reflect the traditional Japanese satoyama lifestyle that people and nature coexist sustainably. (In a satoyama, people typically forms a community (=sato) with farmlands, on the border of a forest (=yama).
A forest is a resource for their living, being managed sustainably by sato residents.)
 
In such satoyama living, the art of livingware handcrafting has been passed along from generation to generation, producing practical and useful objects.
They provide insights into a lifestyle in harmony with nature.
 
For this exhibition, we sourced handcrafted baskets by visiting local craftspeople in various places from Tohoku region to KyushuIsland.
Each of their work is unique and representative of the regions where they are crafted.Their rustic beauty attracts us.
 
To commemorate the opening of the exhibition, Mr. Shinichi Nakagawara (the winner of the New Works Competition organised by The Japan Folk Crafts Museum in 2015) will give a demonstration of traditional Akebi vine basketwork on 15th and 16th April.
Exhibition period:
April 15 − April 30, 2017
*Closed on April 14
Place:
5-18-10 Minami-aoyama, Minato-ku, Tokyo
T. +81 (0)3 5774 6866
*Closed period: April 14
Akebi vine basket, Akita Prefecture
Wild grapevine and Japanese wingnut tree basket, Akita Prefecture
Suzutake hand basket, Iwate Prefecture
Shinodake and moutain cherry tree basket, Miyagi Prefecture
*Composed of Shinodake bamboo, mountain cherry tree, Japanese wisteria vine and madake bamboo
Keyaki basket, Walnut tree basket, Niigata Prefecture
Madake fugo, Chiba Prefecture
Medake hanakago, Chiba Prefecture
Nemagaridake apple basket, Nagano Prefecture
Henon bamboo basket, Nagasaki Prefecture
Kudzufuji vine basket, Kagoshima Prefecture
Getto basket, Okinawa Prefecture