EVENT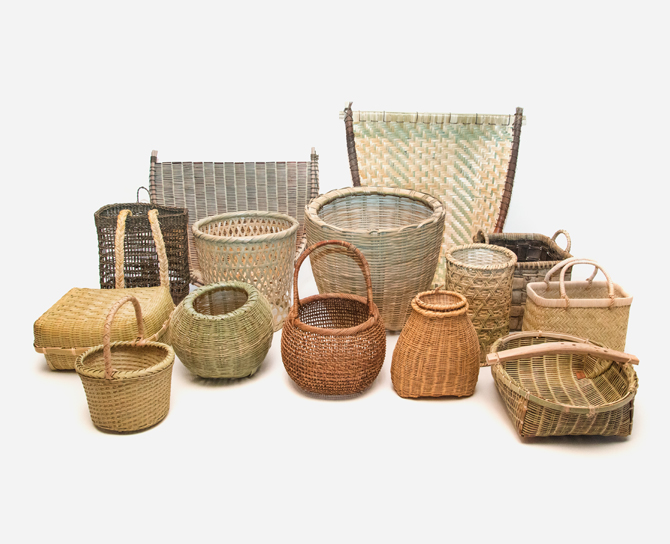 Japanese handicrafts made with natural raw materials are an embodiment of appreciation, awe and respect for nature.

They reflect the traditional Japanese satoyama lifestyle that people and nature coexist sustainably. (In a satoyama, people typically forms a community (=sato) with farmlands, on the border of a forest (=yama). A forest is a resource for their living, being managed sustainably by sato residents.)

In such satoyama living, the art of livingware handcrafting has been passed along from generation to generation, producing practical and useful objects. They provide insights into a lifestyle in harmony with nature.
 
For this exhibition, we sourced handcrafted baskets by visiting local craftspeople in various places from Tohoku region to Kyushu Island. Each of their work is unique and representative of the regions where they are crafted. Their rustic beauty attracts us.
 
To commemorate the opening of the exhibition, Mr Shinichi Nakagawahara (the winner of the New Works Competition organised by The Japan Folk Crafts Museum in 2015) will give a demonstration of traditional Akebi vine basketwork on 19th and 20th March.

Exhibition period:

Saturday, March 19 − Sunday, April 3, 2016

Place:

5-18-10 Minami-aoyama, Minato-ku, Tokyo
Open 11am – 7pm | Closed on Wednesdays

T. +81 (0)3 5774 6866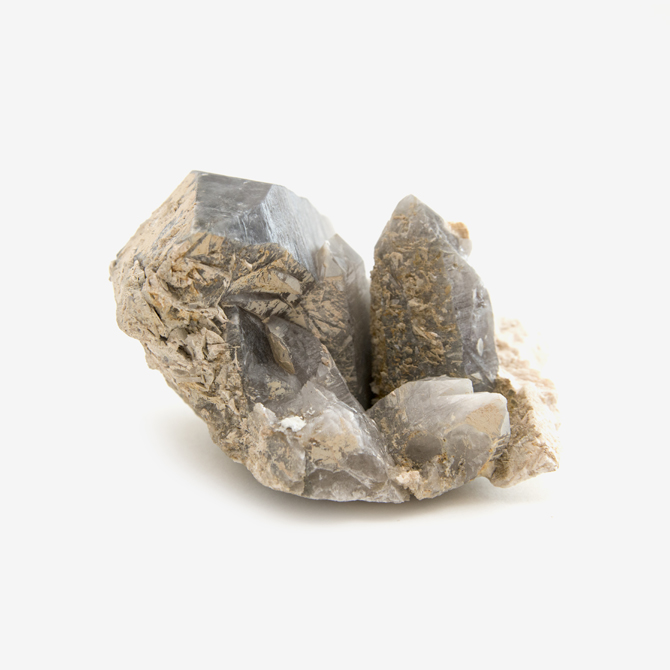 Natural stone accessories, raw stones from various regions of Japan, such as crystal from Iwate Prefecture, Yanamashi Prefecture, Nagano Prefecture, garnet from Nara Prefecuture, and topaz from Shiga Prefecture. With enjoyment of greater awareness of the rhythms of life, we hope to bring the experience of everyday life closer to the interaction among natural world.

Exhibition period: Saturday, October 10 − Sunday, November 1, 2015
*Closed every Wednesday
 
Place: Center for COSMIC WONDER
Hours: 11am − 19pm
Admission free

*This event is programmed as part of a satellite program of the exhibition "Otto Künzli" which is held at  Tokyo Metropolitan Teien Art Museum from October 10, 2015.
5-18-10 Minami-aoyama, Minato-ku, Tokyo
Open 11am – 7pm | Closed on Wednesdays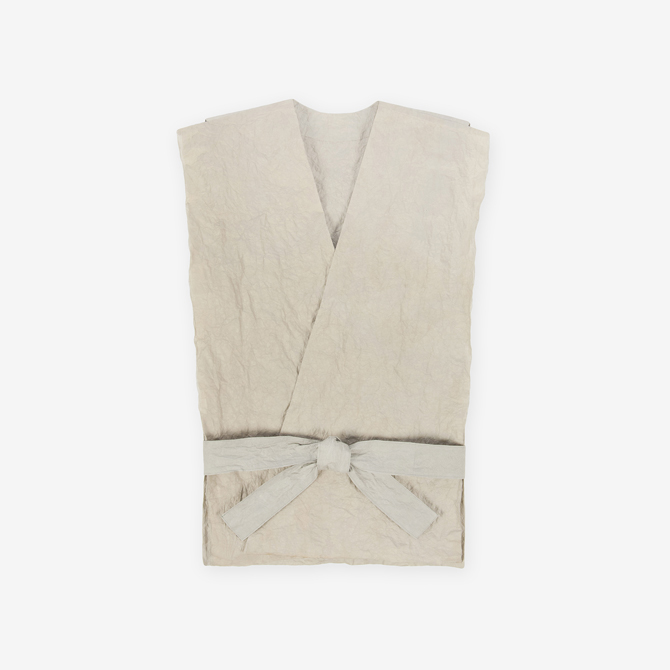 Cosmic Wonder's kamikoromo get their white color from the kozo plant. The ume flower color comes from an Akane herbal dye. The sumi color comes from a wildflower herbal dye.
Paper has long been celebrated in Japanese life for the important role it plays in many rituals, ceremonies, and countless everyday activities. In ancient times, Buddhist priests pasted together paper scraps to make kimonos. This tradition lives on in the form of kamikoromo and in the ceremony called 'omizutori', which is performed at the Todaiji Buddhist temple in Nara. Ippen Shonin (St.Ippen) traveled throughout Japan wearing kamikoromo.
From the Muromachi period onward, kamikoromo spread out through the samurai culture. The one worn by Kenshin Uesugi (one of the most powerful lords of the Sengoku period) is thought to be the oldest surviving kamikoromo. Toyotomi Hideyoshi (a preeminent daimyo) owned a kamikoromo haori (the reverse side was dyed with kobai). By the middle of the Edo period, the use of these paper robes had expanded to the general population. This is the time of Basho, the greatest haiku poet and a wearer of kamikoromo.
Their lightness and heat-retaining quality made them popular among travelers and traveling haiku poets. Kamikoromo embody the sense of wabi-sabi, emphasizing the rustic beauty of nature. In the present day, techniques for the production of traditional paper clothing are still practiced in Shiroishi, Miyagi Prefecture.
Today, kozo, mitsumata and gampi are the principal raw materials for washi. Kozo is prized for its long, tough fibers. Kozo is cut at the root and steamed in a barrel over a fire in order to separate the bark. The bundles of fibers are placed in a cold stream for one to three days. The branches are boiled and stripped of their outer bark and then dried. The fibers are then boiled, placed in running water, and naturally bleached. The rinsed fibers are placed in a strainer floating in water for further cleaning and then laid on a board and beaten. Once they have dried overnight and have been softened by stamping or hand-rubbing, they are ready to be made into washi.
COSMIC WONDER Kamino-hikarino-awa collection event will go on a tour to the following region in Japan.
[ Schedule ]
KAGURE, Osaka 9/5 – 15
URBAN RESEARCH DOORS, Minamisemba 9/19 – 29
CIY, Morioka 10/3 – 12
STARDUST, Kyoto 10/10 – 18
OUTBOUND, Kichijoji 10/21 – 11/2
KAGURE, Marunouchi 10/24 – 11/1
MM BOOKS MINO, Mino 11/7 – 15
ISETAN SHINJUKU MEN'S 2F, Shinjuku 11/11 – 24
OU, Nagoya 11/17 – 23
PENNY RAIN, Kiryu 10/20 – 21
POST IN TIME, Maebashi 10/22 – 23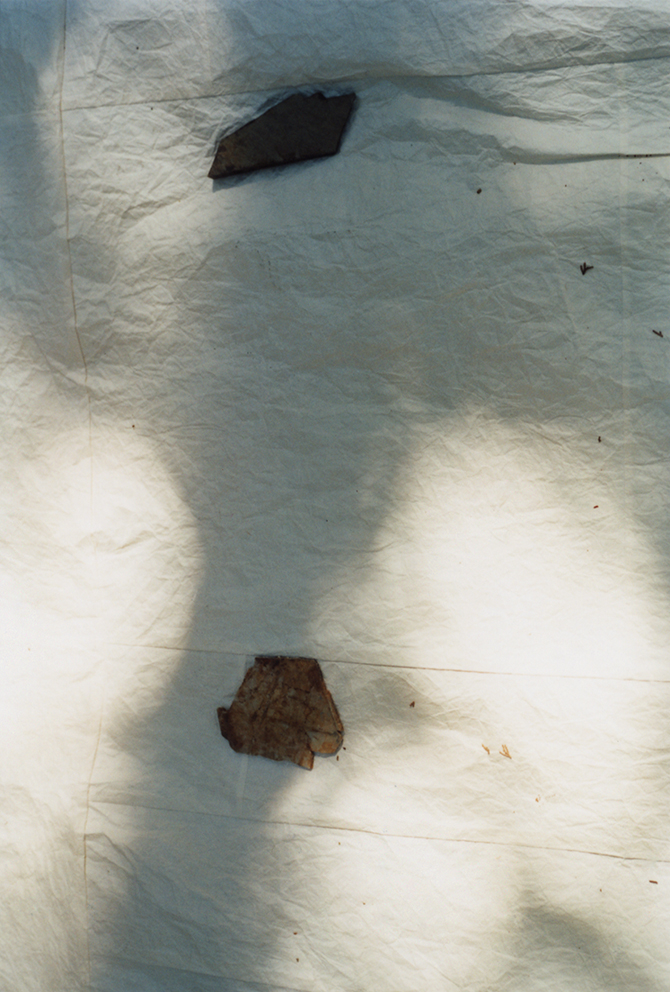 Photography by Yurie Nagashima
Under an April sky, the water ceremony Kamino-hikarino-awa was performed by Cosmic Wonder with Kogei Punks Sha.
Visitors were invited to drink the spring water welling up from the foot of the mountain.
Deep inside a forest of Japanese cedar, the story of a natural journey was told in words and quiet gestures.
Our thoughts were calmed by the rustling sounds of paper.
Mountaintops shimmered in bowls of water and wild sakura petals drifted down through the air.
COSMIC WONDER with Kogei Punks Sha
Exhibit "Kamino-hikarino-awa Water Ceremony"
Exhibition period: August 2 – September 6, 2015
*Closed every Wednesday (Temporary Closing August 13 (Thu.) and 14 (Fri.))
Place: Center for COSMIC WONDER
Hours: 11am – 19pm (Film will be screened from 4pm to 7pm everyday.)
Admission free
COSMIC WONDER
Kogei Punks Sha
Takaharu Maeda
Naoto Ishii
Masaru Kawai
Yurie Nagashima
Nobuhiro Shimura
Exhibition organized by Center for COSMIC WONDER
Under the auspices of gallery Hakuden
An art book "Kamino-hikarino-awa Water Ceremony " is being published on the occasion of the exhibition. This book includes Yurie Nagashima's photographs, Nobuhiro Shimura's film stills and a letterpress drawing by Kogei Punks Sha. A limited edition of 250 copies by Center for COSMIC WONDER | gallery Hakuden.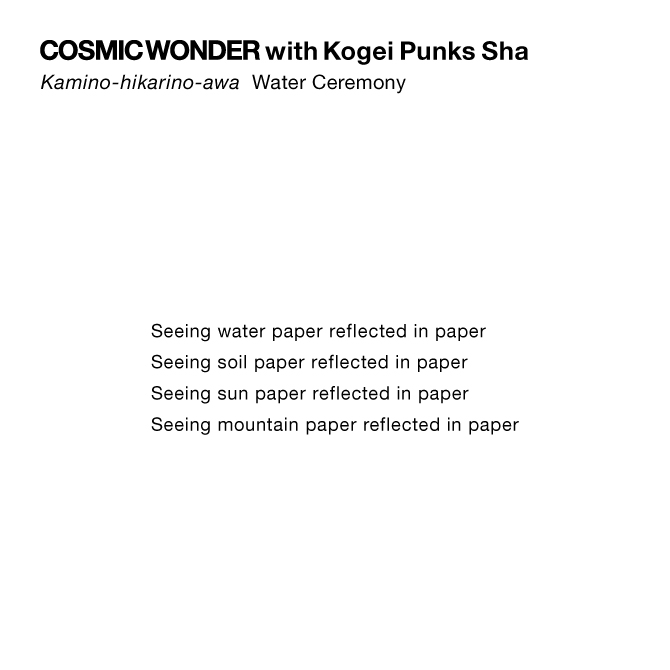 Date: 26th April, 2015
Performance Time: 11:00 / 14:00 / 16:00

Place: Gallery Hakuden
Number of seats: 24 (8 seats for each performance)
Admission fee: Free

Prior booking essential. Apply in e-mail. (application deadline 15th April, 2015)
dokkatouyu@ybb.ne.jp
Gallery Hakuden
When applying, please note preferred time (chose from 11:00 / 14:00 / 16:00) with your name and contact address, telephone number.
In case of too many applications, we will hold a draw for place allocation.

-

Art director:
COSMIC WONDER
Yukinori Maeda
Sumiko Ishii

Sekishu: Kogei Punks Sha
Hanto: Makito Shindo, Miyako Yasuda
Kamisuki-shi (Washi artisan): Takaharu Maeda

Kamikoromo (Paper kimono): COSMIC WONDER
Earthenware: Naoto Ishii
Woodwork: Masaru Kawai

Photography: Yurie Nagashima
Cine-film recording: Nobuhiro Shimura

Production: Gallery Hakuden, COSMIC WONDER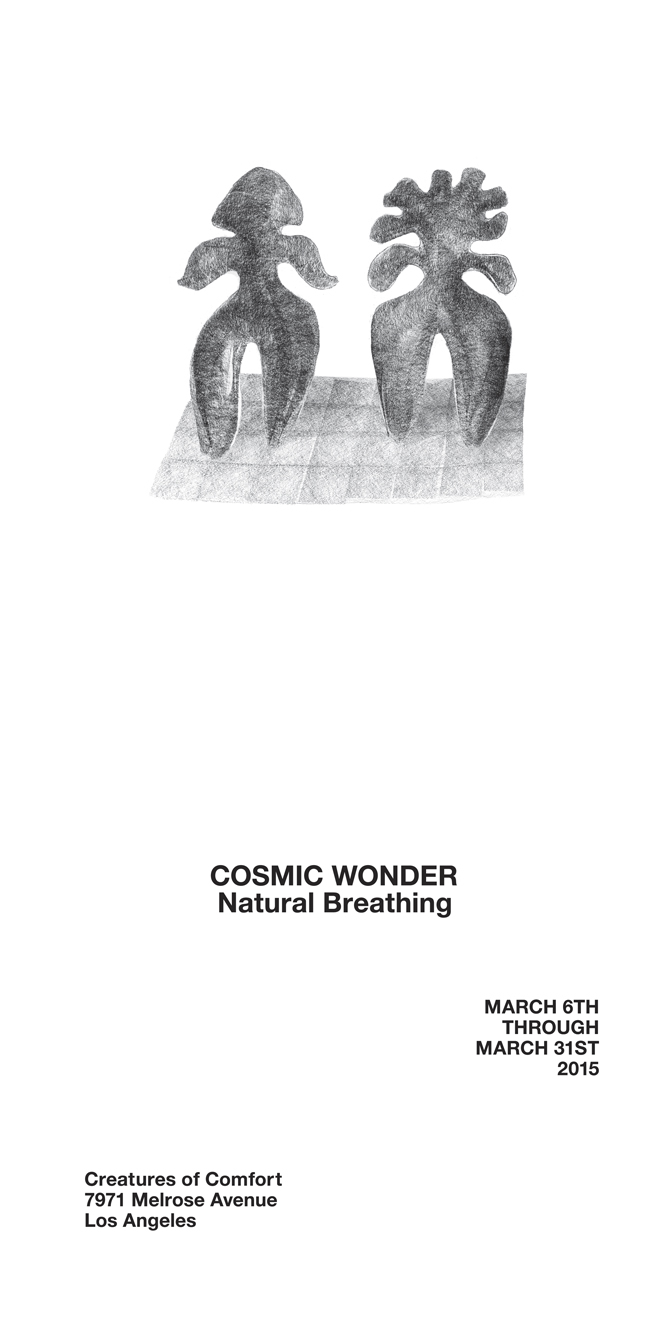 Creatures of Comfort LA
7971 Melrose Avenue, Los Angeles, CA, 90046
T. +1 323 655 7855