EVENT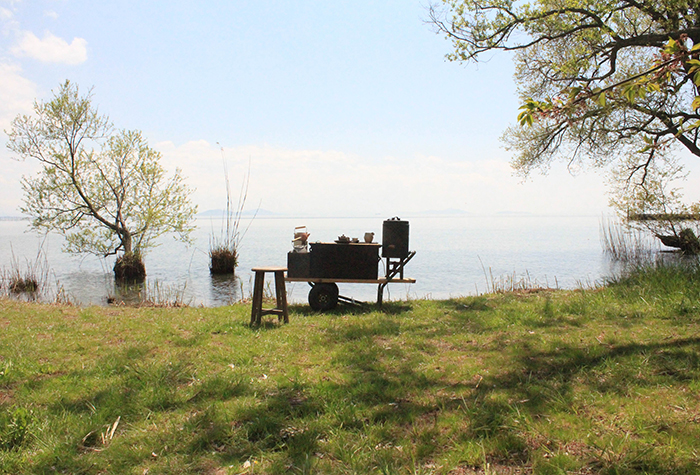 At Center for COSMIC WONDER, we are pleased to present Takashi Ichikawa's "Chaguruma" (tea cart) exhibition.
For his participation in the collective exhibition held at the Wachi-yama Nogusa-no-mori in Kyotanba, Kyoto, Ichikawa created "Chaguruma No.1" a collection of tea ceremony tools to be carried to the fields and the forest. Since then he has created tea carts for various occasions, with "Chaguruma No.5" meeting its completion this year.
Amidst such course of events, he has also introduced works such as "Cha-rry (carry)" that takes a form similar to a trunk, and "Cha-unter (counter)" a counter that can be carried on one's back.
These works are presented in various locations from Kyoto, Sendai, Taipei, Beijing, Yunnan, Wuhan, Xi'an and Inner Mongolia, where unique moments of tea are respectively held.
On the occasion of this exhibition, we will present works centering on Ichikawa's "Chaguruma" including "Cha-rry" and "Cha-unter."  Also throughout the duration of the exhibition, teaware made by Ichikawa will be available for purchase.
We look forward to welcoming visitors with the Chaguruma that resonates with the scene of ancient tea fields and the spirit of our present day as a means to reawaken our mind and senses.
Exhibition period:
June 10 – June 18, 2017
*Closed on June 9
*The artist will be attending on June 10
Opening reception:
Saturday, June 10 / 11am, 2pm, 4pm
As a celebration for the opening of the exhibition, Takashi Ichikawa will held "Chaguruma (tea cart)" with served Higashi by Kousagisha, Kyoto.
Place:
5-18-10 Minami-aoyama, Minato-ku, Tokyo
T. +81 (0)3 5774 6866
Open 11am – 7pm
−
Tea Cart and Teaware
 In 2007 I met 李曙韻 (Mr. Lee) and became acquainted with Taiwanese tea. I was fascinated by the fragrant scent of Taiwanese tea, and through the beauty and freeness of Mr. Lee's tea, had come to witness a new world of tea. Thereafter when Mr. Lee had moved the base of his activities to Beijing, I had the opportunity to encounter Chinese tea. The tea from the continent embodied a sense of richness, and was wealthy in variety. Learning about the profoundness of tea through the history of its culture such as its consideration as food, medicine, and connections to Zen and dissemination throughout the world, I found myself becoming more and more enticed by the appeal of tea. The creation of teaware is a difficult task. Nevertheless, the way one relates to tea through making its tools is indeed interesting, and I find it rewarding to think about tools from the practice of brewing tea.
When I encounter palatable tea I feel the urge to visit the place where it was cultivated. In time I had developed the desire to go to Xishuangbanna (Yunnan province) that is recognized as a place that produces enticingly tasteful tea in hopes to also encounter ancient tea trees. Thereafter I was granted the opportunity to visit an ancient tea tree that is over one thousand years old. The ancient tree had born very large tea leaves, standing tall high above one's head. It was clearly different to any tea tree I knew. Observing the way it grew amidst the wilderness of the mountain, I channeled my awareness towards the long extending roots and rays of the sun that streamed upon it. The art of the tea ceremony was born amidst the history of tea, yet by sensing the presence of this ancient tree (the origins of tea), I was able to emotionally engage with "tea" in a different sense of mind. I am also very attracted to and interested in the aspects surrounding tea and its relationship with the moon (seasons), fire (sun), water (body), tree (leaves, roots), gold (day), earth (ceramics).
While developing my hopes of communicating the appeal of tea to many people through its tools, I had come to gain an interest in the "Song Dynasty Tea Ceremony Diagram" and the many images that I saw at the Hangzhou Tea Museum in China, which depicted literates enjoying tea outside. From these images I could discern people "seemingly carrying something curious" that looked different to tea boxes used in tea ceremonies, and through this experience I strongly realized this too, was one of the ways of enjoying one's time with tea.
Takashi Ichikawa
1967  Born in Shiga Prefecture
          Studied sculpture at university
1993  Worked at Furuya Pottery (Shigaraki, Shiga Prefecture)
1997  Apprenticeship under Mr. Nariyoshi Morioka (Wakayama Prefecture)
1999  Built a down-draft firewood kiln and a kerosene kiln
2000  Held a series of solo exhibitions throughout Japan
          Built a firewood climbing kiln and a charcoal kiln
2008  Held solo exhibitions in 人澹如菊茶書院 (Taiwan)
          台北茶家十職(Taiwan), 北京茶家十職 (China)
          He is involved in activities such as "Chakakigoto" and "Chaiyuuki."
Translation by Kei Benger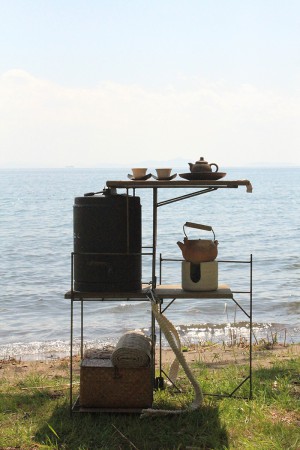 Photography by Takashi Ichikawa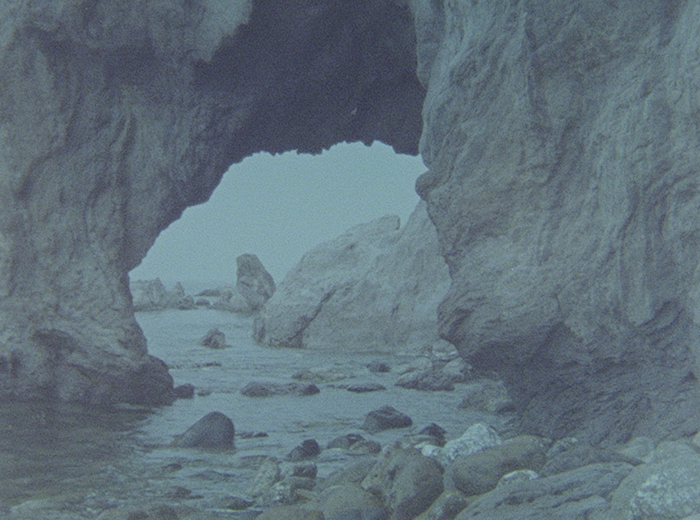 To mark the release of "Omizue Iwamino-Kamito-Mizu" a new publication from Iwami Art Museum , we are pleased to present film Screening of performance "Omizue"and "Preparations for the Omizue".
It is our hope to provide a glimpse into this moment through the images within this beautiful films.
"Preparations for the Omizue":8mm film (17 minutes)
Filming: Yukinori Maeda
Editing: Fumitaka Kato
"Omizue":8mm film (14 minutes)
Filming / Editing: Fumitaka Kato
Date:
May 22  − June 8, 2017
5:30pm − 7pm
Place:
5-18-10 Minami-aoyama, Minato-ku, Tokyo
T. +81 (0)3 5774 6866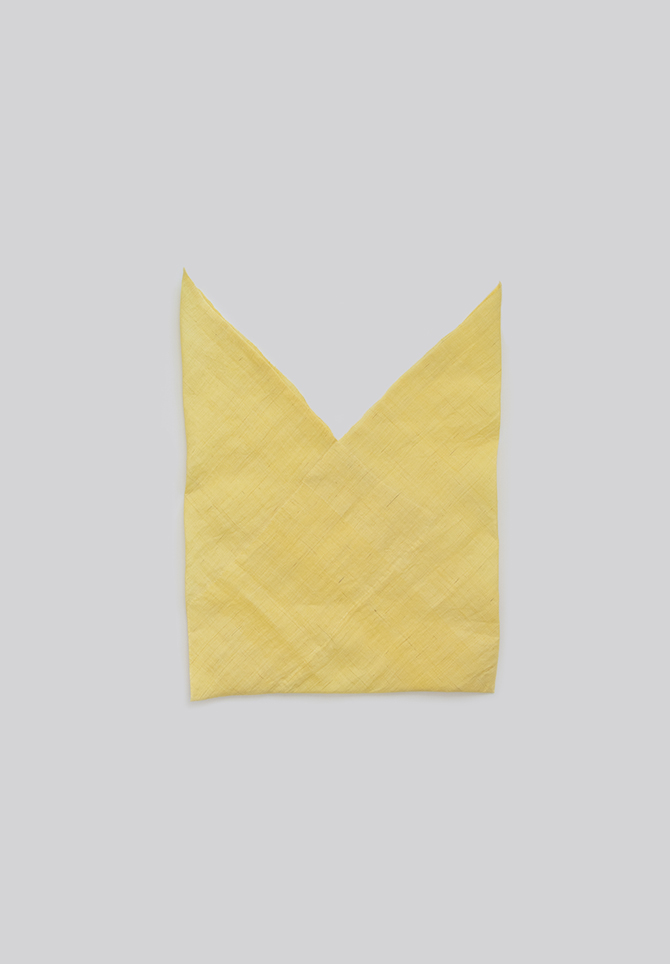 Ramie Tsunobukuro pomegranate herbal dyed
Light through the branches
Cross ancient sunlight and beautiful light
Shoka koromo in the awakening day
I thought of celestial color
A new light
Exhibition period:
May 13 − May 21, 2017
Place:
5-18-10 Minami-aoyama, Minato-ku, Tokyo
T. +81 (0)3 5774 6866
Open 11am – 7pm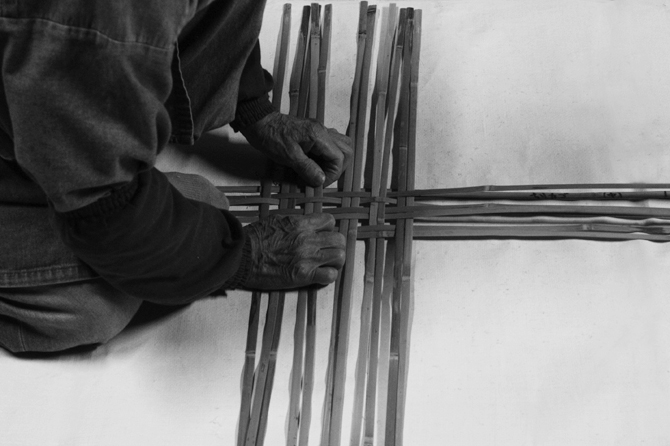 Japanese handicrafts made with natural raw materials are an embodiment of appreciation, awe and respect for nature.
They reflect the traditional Japanese satoyama lifestyle that people and nature coexist sustainably. (In a satoyama, people typically forms a community (=sato) with farmlands, on the border of a forest (=yama).
A forest is a resource for their living, being managed sustainably by sato residents.)
 
In such satoyama living, the art of livingware handcrafting has been passed along from generation to generation, producing practical and useful objects.
They provide insights into a lifestyle in harmony with nature.
 
For this exhibition, we sourced handcrafted baskets by visiting local craftspeople in various places from Tohoku region to KyushuIsland.
Each of their work is unique and representative of the regions where they are crafted.Their rustic beauty attracts us.
 
To commemorate the opening of the exhibition, Mr. Shinichi Nakagawara (the winner of the New Works Competition organised by The Japan Folk Crafts Museum in 2015) will give a demonstration of traditional Akebi vine basketwork on 15th and 16th April.
Exhibition period:
April 15 − April 30, 2017
*Closed on April 14
Place:
5-18-10 Minami-aoyama, Minato-ku, Tokyo
T. +81 (0)3 5774 6866
*Closed period: April 14
Akebi vine basket, Akita Prefecture
Wild grapevine and Japanese wingnut tree basket, Akita Prefecture
Suzutake hand basket, Iwate Prefecture
Shinodake and moutain cherry tree basket, Miyagi Prefecture
*Composed of Shinodake bamboo, mountain cherry tree, Japanese wisteria vine and madake bamboo
Keyaki basket, Walnut tree basket, Niigata Prefecture
Madake fugo, Chiba Prefecture
Medake hanakago, Chiba Prefecture
Nemagaridake apple basket, Nagano Prefecture
Henon bamboo basket, Nagasaki Prefecture
Kudzufuji vine basket, Kagoshima Prefecture
Getto basket, Okinawa Prefecture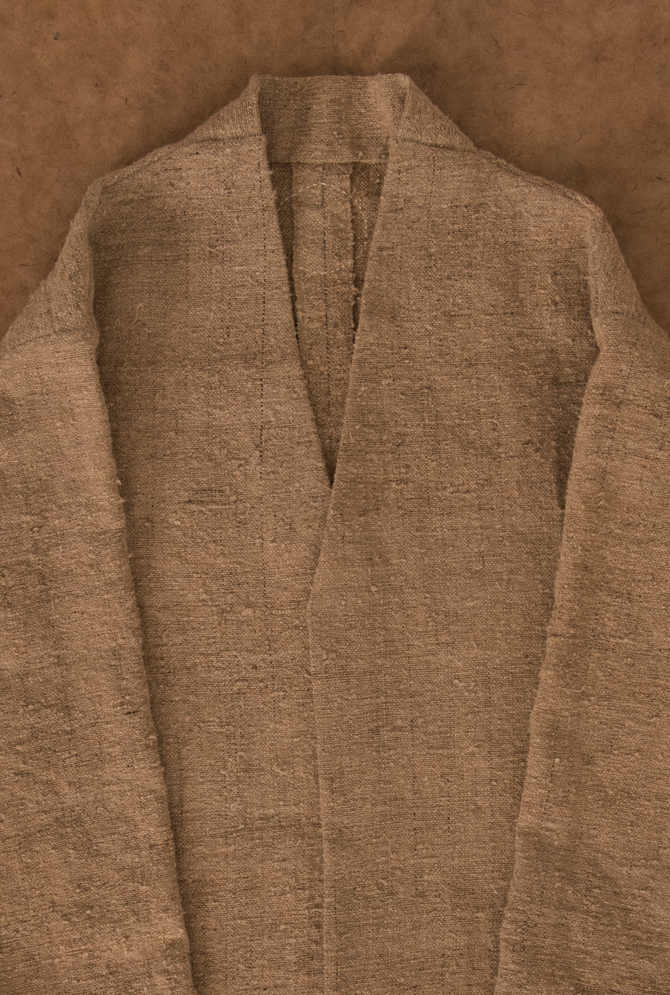 Okusozakkuri Haori
To commemorate the 20th anniversary of the founding, we present the first performance of the new work "Ryugu Koromo" at the Center for COSMIC WONDER.
Date:
March 19, Sunday, 4pm − around 6pm
Place:
5-18-10 Minami-aoyama, Minato-ku, Tokyo
T. +81 (0)3 5774 6866
*Closed period: March 13 − 19
Number of seats:
30 (Free admission)
*advance reservation required
If you would like to attend the event, please send your name and telephone number to the following e-mail address by March 6, Monday. We handle inquiries in order of arrival. event@cosmicwonder.com
We look forward to meeting and welcoming you.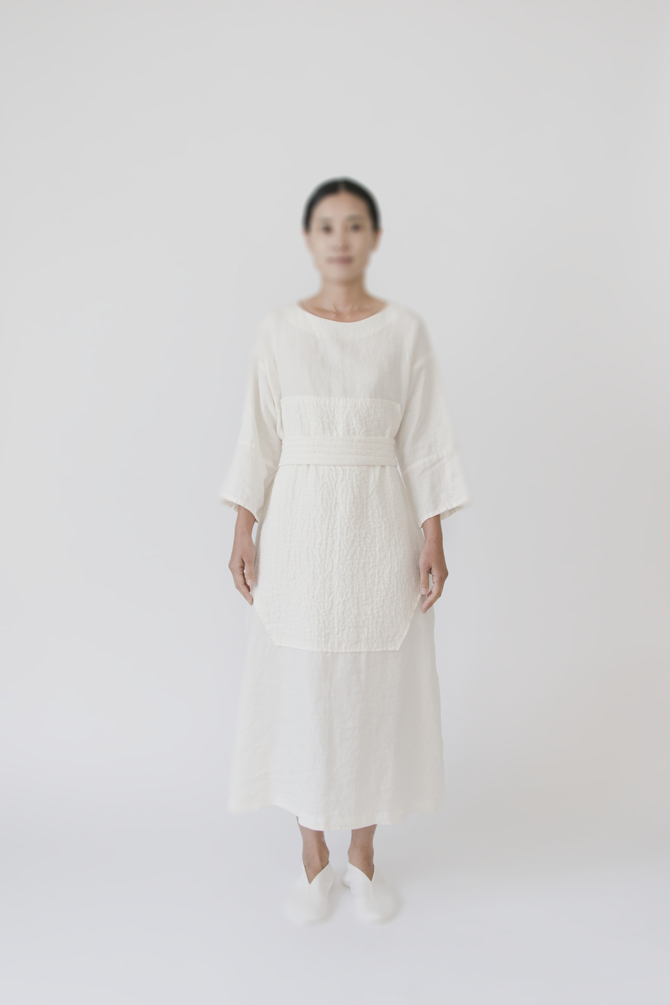 COSMIC WONDER "Ryugu Koromo" spring items will be available at Center for COSMIC WONDER on February 18, 2017.
To mark the release of this new collection, the reception will be held at the Center for COSMIC WONDER.
Original sweet will be served during the reception.
Yukinori Maeda, contemporary artist and founder of COSMIC WONDER, will be attending at the reception.
Date:
February 18, Saturday, 12pm − 16pm
Place:
5-18-10 Minami-aoyama, Minato-ku, Tokyo
Open 11am − 7pm